Why Should I Visit Fremantle? 5 Reasons Why Fremantle is Growing In Popularity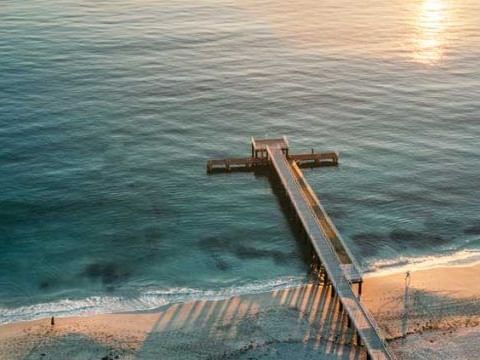 What makes Fremantle such a great place to visit? The Lonely Planet describes Fremantle as 'the best in the west' and as Australia's best kept secret. Don't take their word for it though – come and see for yourself and enjoy the spectacular beaches, world-class food, buzzing nightlife and charming historical township.
Here are our top five reasons to visit Fremantle…
1. The thriving live music scene…
Old and new, local and international, folk, punk, indie, metal, experimental: you name it and it's part of Fremantle's thriving live music scene. Check out local DJs, silent discos and karaoke if that's what you fancy, or stop in for some live jazz, bluesy afternoons and intimate camp-fire style singalongs. We're not exaggerating when we say that live music, in all its iterations, is the heart and soul of Fremantle. The newly-refurbished Freo Social is having a big impact on the scene, and so is the Fremantle Arts Centre when weekends roll around and it transforms into a new and exciting outdoor music venue.
This list of our favourite music hotspots should keep you busy for a while, and if you need more inspiration chat to staff at Be. Fremantle and we'll keep you in the loop on where to visit based on what you'd like to hear.
2. The amazing beaches…
There is so much natural beauty in and around Fremantle, and so many ways to enjoy the beachside atmosphere. Spend the morning swimming and relaxing on the beach, hire a Be. Bike and explore the rugged coastline, book in for a cruise or take a catamaran out to enjoy a snorkelling adventure. Jet boating, whale watching, sipping cocktails in the beachside restaurants – whatever you choose to do you'll be blown away by the natural beauty of Fremantle and its surrounds. There are four main beaches in Fremantle, and between them you'll find perfect spots for swimming, snorkelling, surfing, kite surfing and more. Make sure you take in a Fremantle sunset too – they're among the best sunsets in the world.
3. Rottnest Island
Set aside some time to jump on a ferry and head to Rottnest Island. This tourist hub has been carefully protected to preserve its natural habitat. You won't find cars there, but you will find spectacular walking tracks taking you through its native wildlife and up to the scenic lighthouse outlook. Despite its small size, there are more than sixty beaches on Rottnest Island including twenty secluded bays. If you're a surfer, you'll want to make your way to Strickland Bay, or if you're after something calmer head to the Basin for a paddle in the pool-like shallows of one of Western Australia's most spectacular beaches. Check in at the information centre for the low down on which beaches are most suitable for what you're after. Take a look here for more on Rottnest Island and for details of our Be. Rottnest booking special.
4. World class events and festivals
Any time of the year you'll find a great array of one-off events or annual festivals. Exhibitions, live theatre, street art, the list goes on. In autumn the city comes alive with the Fremantle International Street Arts Festival drawing talented and thought-provoking performers from all around the world. The Cottesloe Sculptures by the Sea exhibit sees international artists exhibiting breathtaking large-scale sculptures against the rugged backdrop of the western Australian coast.
There's something going on to suit all tastes – from world-renowned choirs coming together for Choral Fest to the ever-exciting AFL season gearing up again. For more on the best ways to enjoy Fremantle during Autumn take a look here or chat to our staff and tap into their abundance of local knowledge.
5. The amazing places to eat, drink and be merry…
The hospitality industry shines in Fremantle. Nowhere will you find baristas who care more about their coffee or chefs more excited about their produce. And that's just the beginning. Near the Fremantle markets you'll find the 'cappuccino strip', where al fresco dining in the Fremantle sun is the only thing to do. Stop, relax and smell the coffee – this is an excellent place to start your day. From there, meander down to the Yard – the fresh food part of the markets – and check out the amazing local produce on show.
When it's time to dine, you'll find a huge array of cafes and restaurants offering everything you could possibly want. Step into the Raw Kitchen and enjoy healthy vegan options like buckwheat pizzas, sweet protein balls and excellent smoothies. For something a little more traditional make your way to Cicerello's where you'll find the best fish and chips in town, or head down to Propeller where a Middle Eastern feast awaits you.
But what about drinks? Stop in at Little Creatures brewery and enjoy their range of craft beers. If wine is more your thing, Mrs Browns is for you – put yourself in the courtyard and relax with a glass or two of your favourite wine. Whisper Wine Bar is also a top-notch option with its focus on Australian and New Zealand wines. Locals flock to Strange Company, where wine and those who enjoy it will be spilling out onto the street. And for something a little less boisterous and a little more chilled, take yourself to the Bathers' Beach House and make the most of their deck chairs overlooking the beach. With a mojito in hand, there's hardly a better place to be in the world.
Book your stay at Be. Fremantle…
With so many reasons to visit Fremantle, now's the time to secure your booking at Be. Fremantle. Conveniently located in the heart of Fremantle in Fishing Boat Harbour, you'll be close to all the main attractions while still being in your own comfortable, waterside accommodation. Contact us today to organise your stay.
/BY JUSTIN WARD