Fremantle Tourist Attractions: 6 Points of Interest You Won't Want to Miss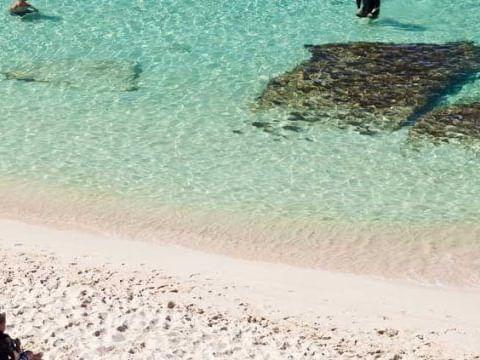 It's no accident that Fremantle has become one of Western Australia's most popular holiday destinations. Historic landmarks, world class markets and extraordinary natural beauty make Fremantle a wonderful place to visit. With so much to explore and so many beautiful places to enjoy, you'll find yourself relaxing into holiday mode before you know it.
Here are our top six must-visit attractions in and around Fremantle…
Fremantle's world-class beaches
There are four main beaches in Fremantle and together they make one of the best reasons to visit this beautiful coastal town. Whichever beach you choose, you'll find soft white sand and the clear blue waters of the Indian Ocean. Leighton Beach is great for swimming, and Port Beach is great for a spot of snorkelling too. South Beach is a perfect beach for families and is very easily accessible. Bather's Beach is an inner-city beach with calm waters and, if you stay at Be. Fremantle, it's just 300 meters from your doorstep.
Fremantle's beaches aren't all about swimming though. They're also the perfect place for an evening walk along the sand or to stop and take in some of the most spectacular sunsets in the world. Enjoy a relaxed glass of wine in one of the beachside restaurants (we love Bather's Beach House for this) or head to the market and get some supplies for a perfect waterside picnic.
Read our complete guide on the best beaches in Perth and Fremantle.
The Fremantle Markets
The Fremantle Markets are a must-see when you're visiting Fremantle. The undercover marketplace has been thriving for more than a hundred years and now holds over 150 stalls altogether. It's a hive of energy with local growers, artisans and artists all flocking to the market to sell their wares. Head to the Historical Hall for an excellent array crafts, clothing, jewellery and art (including photography, wildlife illustrations and authentic aboriginal artworks).
Wander through to the second part of the market, The Yard, and experience the foodie heart of Fremantle. Fresh fruits, vegetables, seafoods and more are ready to inspire your inner chef. You'll find breads, cupcakes, local honeys, gourmet popcorn and more at your fingertips here. From hotdogs at the Bratwurst Bar to superfood smoothies at the Raw Raw Raw stall, there's something here for everyone.
Rottnest Island
Rottnest Island is one of the most unique island environments you'll ever come across. Take a ferry across to the car-free island and join the people walking or bike-riding their way around this natural wonderland. Walking trails will take you on wildlife walks where you might see a quokka, the native Australian animal rarely seen outside of the island. Admire the rugged coastline on a walk up to the lighthouse, then enjoy the pristine beaches by the main township area of Thompson Bay.
The Basin is a great beach for swimming with unique rockpool-like formations creating a natural beachside 'swimming pool'. If surfing is more your style head to Strickland Bay – with its towering waves it's not for the faint-hearted but it's rated as one of the best surf beaches around. For families wanting a fun day out, you'll find lots of things to do here too including minigolf, trampolining and the Aqua Park as well. Our Be. Rottnest packages can help you to plan your time here too.
The Fremantle Prison
Step through the cast-iron gates and be transported back in time. The convict-built prison served as a maximum-security jail from 1887 to 1991 and is now one of Fremantle's most popular tourist attractions. Learn what daily life was life for the many prisoners held there and marvel at the harsh realities of Australia's history. Make sure you take a look at the individual tours on offer too, especially during the school holidays, as there are some fantastic tours for kids and families. Once you step outside again, you'll appreciate your freedom – and the blue skies around you – in a whole new way!
Fremantle Arts Centre
All year round the Fremantle Arts Centre is abuzz with international exhibits, live music, artists in residence and countless cultural events taking place.
While its modern incarnation is a celebration of culture, if you scratch beneath the surface of this charming building you'll find all sorts of colourful stories in its past. Built by convicts in the 1860s, it initially served as a psychiatric hospital, then a refuge during the war, a women's shelter, a technical school and then a mariner's museum. Since the 1970s, though, it's been home to the Fremantle Arts Centre.
Currently you'll find exhibitions from new and emerging aboriginal artists plus live music events including Amy Shark and Billie Eilish. With a constantly changing line up of music and events, it's always worth checking out what's happening at the Arts Centre.
For our guide on the best hotspots for live music in Fremantle, read our guide here.
Dining out in style
Food here is a serious business and Fremantle prides itself on offering great hospitality. Whether it's the funky little coffee shop with single-origin beans (here's to you, Chalky's) or the world-class restaurants overlooking the water, you're in for a first-class experience.
Our favourites include the newly renovated Char Char restaurant and bar where you can enjoy sensational dishes like oysters four ways, gold band snapper with caponata, native pepper kangaroo or a selection of beef off the chargrill. Fishing Boat Harbour is also home to Helm, with its cool vibe and 270 degree views over the harbour, sit back and take it all in over a refreshing drink and some of their stunning chargrilled prawns. The iconic Cicerello's also sits proudly in the harbour, with the best fish, chips, seafood chowders, chilli mussels and more. Venture a little further and you'll find anything you want – Cantonese cuisine at Joy Kitchen, tapas at the Gypsy Bar or a middle eastern feast at Propeller. Fremantle is a truly eclectic and exciting mixture of dining venues. Wherever you turn, you'll find the standards are high and the options are plentiful.
Planning your visit…
Secure your stay at Be. Fremantle with one of our fremantle accommodation deals. Our knowledgeable staff can help you plan your stay, and tell you about all we have on offer, including our Be. Bikes for hire, our nearby partner restaurants and our special Be. Rottnest packages as well. Contact us today to make the most of your visit to Fremantle!
Marina View Three Bedroom
/BY JUSTIN WARD