Fremantle Short Stays: How To Make the Most Out of A Quick Trip to Fremantle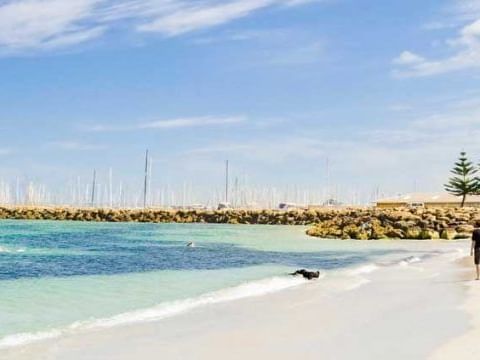 The beauty of Fremantle lies in the fact that it's a small town with lots of exciting things to see and do. Everything is at your fingertips, so even if you're only planning a short stay you can still see a lot of what Western Australia has to offer. Base yourself at Be. Fremantle, in the heart of Fishing Boat Harbour, and you'll be in the perfect position to explore the history, nightlife, beaches and natural wonders that make this part of the world so unique.
Take a look at our guide to making the most of your short stay in Fremantle…
First Things First: Easy Ways to Get Around Town…
Choose how you want to explore Fremantle – on foot, on a bike or on a tram – and you can make getting there half the fun! Fremantle's tram tours are a user-friendly way to see all the major attractions. The hop-on hop-off tour is a great way to get around town and each tour is led by a knowledgeable and entertaining tour guide. You'll find all the information you need here at Fremantle Tram Tours – What's On Offer.
You can also chat to our staff about hiring a Be. Bike and explore the township's winding streets at your own pace. This is a great option if you want to venture a little further afield, too. Follow the bike path out from the visitor's centre and take in the amazing views and rugged coastline just south of Fremantle.
A Perfect One-Day Itinerary…
When you're planning a short stay, it makes sense to plan ahead and think about what you'd like to do. We've got all the information you need to create a relaxed, easy and fun day out when you visit Fremantle. Want to tap in to local history? Dine where the locals do? Perhaps you'd rather picnic next to the ocean, under the shade of hundred-year-old pine trees? Well look no further, because from single-origin coffee in the morning to just-shaken cocktails at sunset, Our Perfect One Day Travel Itinerary has got you covered.
Have breakfast at Chalky's, the ultra-funky converted warehouse, then meander down to the Kakulus Sisters and their one-of-a-kind delicatessen. Shop where the locals shop at the Fremantle Markets and head out for a picnic to remember. And what better way could there be to enjoy the sights than on the nearby beachside Ferris wheel? With views stretching out over the coastline as well as over the historical town, this is an experience not to be missed. Sit back and take it all in and you'll start to understand what makes Fremantle so special.
When you get your feet back on the ground, there are any number of ways to spend your afternoon. For the history buffs, we recommend a trip to the Fremantle Prison. You won't be disappointed. If you want to immerse yourself in art and culture, head over to the extraordinary Fremantle Arts Centre, it's a gallery like no other. Fremantle's street art is also a must see and worth exploring the streets to discover what's around the next corner. And if you just want to sit back, relax and take in the atmosphere of this vibrant coastal town, we recommend you head to Little Creatures. Watch the world go by while enjoying a beer or two from the finest craft beer brewery in the country.
Fremantle in the evening
When evening rolls around, you can pack in a whole lot of fun because everything you need is within easy reach. So why not plan to do it all…
We won't be the first to tell you that a sunset in Western Australia is unlike anywhere else. While there are numerous wonderful spots around Fremantle to watch the sun go down, our favourite is Bather's Beach House. Relax with a cocktail or a glass of wine and watch as the spectacular sunset unfolds.
Once the sun goes down, the hum of Fremantle's busy nightlife starts to build. When it comes to dining out, there's something for everyone's taste. At Cicerello's you'll find first-class fish and chips plus a huge range of other seafood dishes too. Perhaps you fancy some steamed mussels or local chilli crab? Be warned though, choosing from the menu is near impossible as there are too many highlights to count. If you're after something at the fine-dining end of the scale, sit back and enjoy the exquisite menu at Helm. This newly-opened restaurant has 270 degree views of the water and is nothing short of spectacular.
After dinner, tap in to the local music scene. It's become a huge part of the culture here – locals come together to enjoy every type of music under the sun. Starting next door to Helm you'll find the Sonar Room, where they host everything from burlesque and cabaret to folk and blues. With so much on offer around town though you'll want to take a look at our favourite live music venues so you can tap into whatever type of music suits you – from chilled-out jazz sessions to high-energy pub gigs, Fremantle has it all.
Making the most of a short stay
Fremantle is a great choice for a short getaway. Position yourself at Be. Fremantle and you'll have all you need at your doorstep. Set on the waterfront at Fishing Boat Harbour, Be. Fremantle allows you to be close to everything while still having your own relaxed haven to return to when the day is done. Our knowledgeable staff can help you plan what's right for you, so that you can tap in to the very best Fremantle has to offer. Secure your stay at Be. Fremantle and make the most of the beauty, style and distinctly 'Fremantle' atmosphere of this waterfront town. You'll soon realise it is the perfect place for a mini-break.
/BY JUSTIN WARD