What Are Perth's Best Festivals And When Can You Experience Them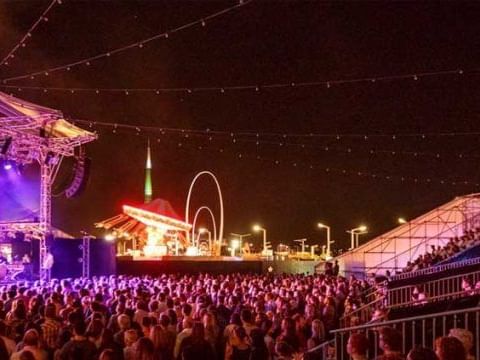 Perth is home to some of the best festivals in Western Australia. Festivals happen all year round so you'll always find something going on during your visit. Whether you like music art, nature, or want to experience the local culture on a massive scale, there is a festival for everyone! These are Perth's best festivals happening throughout the year that you can check out during your stay at Be.Fremantle.
Sculpture by the Sea
Sculpture by the Sea is a unique way to experience Cottesloe Beach, Perth's most popular beach destination. Sculpture by the Sea is a public, outdoor art exhibition which features more than 70 works of art from Australian artists. Cottesloe Beach is transformed into a sculpture park. It's ultimately an art competition complete with a judge panel and awards for the artists. They provide some of their best art for display during the festival which is held annually in March.
Sculpture by the Sea attracts hundreds of thousands of visitors over the duration of the event, typically lasting a couple weeks. Each piece is unique and artists use a variety of mediums to complete their sculptures, ranging from sand to metals, to even incorporating the environment such as the beach or sunset. There are also various art and educational programs that are held during the festival.
Image courtesy of Sculpture by the Sea
Perth International Arts Festival
Every year you can expect something different at the Perth International Arts Festival (PIAF). That says a lot, seeing as it's considered the longest established multi-arts festival in Australia's southern hemisphere. Ever since being established in 1953, it has been a staple in Perth's best festivals. During February and March, you'll be treated with amazing talent both national and international. A diverse mix of established artists and upcoming talent put on shows of music, theatre, dance, spoken word, and even circus acts.
With such a long-running festival, venues around the city host the various events. You can attend events held at Perth's beaches, parks, or indoor venues around the city. It has grown into one of the largest festivals in Perth, attracting more than half a million attendees every year.
Image courtesy of The Public Opinion
Fringe World Festival
Fringe World Festivals have been happening all around the world. While they can be found in many of the major cities in Australia, Perth's Fringe World Festival ranks as the third largest in the world. Its popularity makes it one of the best festivals to attend during your visit. The Fringe World Festival is a massive summer celebration held from January to February. With over 750 events, it provides fun and entertainment for the entire family.
There are free and ticketed events during the festival. Various events such as theatre, visual arts, circus, comedy, and more can be enjoyed. These events feature a majority of Western Australia performers, but also international entertainers. You'll even get a chance to witness the aboriginal culture through music and dance.
Perth Festival
The Perth Festival is a unique festival designed to highlight an overall appreciation of Perth. It's the perfect festival for first-time visitors to the city or even for locals looking to experience new things about their city. Perth Festival is held from February to March every year. The festival consists of events and even mini-festivals. Various venues around Perth host these activities. Some of the events and venues include Chevron Gardens, Lotterywest Films, and Boorna Waanginy. You'll have a chance to enjoy everything from outdoor cinemas, visual arts in Kings Park, Writers Week, and much more.
The diverse mix of activities held during the Perth Festival creates an excellent atmosphere for entertainment, food, drinks, and nightlife.
Image Courtesy of Tourism Western Australia
Rottofest
Just off the coast of Perth is Rottnest Island. This secluded piece of land floating in the Indian Ocean hosts the Rottofest every year. The festival is still in its infancy, having started in 2009. Rottofest was established to showcase Australian comedy, film, and music. It's the perfect opportunity for visitors to experience the top talent that Australia has to offer.
Multiple stages are set up across the island. A unique factor about Rottnest Island is that there are no cars. Many people attending the festival opt for cycling between the various venues and stages. A shortcut through the island's beautiful beaches doesn't sound too bad at all! Throughout the festival, you'll see bands, DJs, top comedians, and more performing live. Special events are even hosted during the event including pool parties and music raves. Rottofest occurs for a weekend in late September.
Kings Park Festival
Kings Park is one of the most popular parks in Perth. Every September, the park transforms into one of the most beautiful places in Western Australia thanks to the wildflower bloom. The Kings Park Festival is a celebration of the springtime when the flowers are in full bloom, revealing a sea of colors throughout the entire park. The beauty of the environment draws half a million visitors throughout the whole month.
Kings Park is home to an abundance of plant life which is evident during the festival. The festival consists of guided tours throughout the park to learn more about the flora found here and the overall history about Kings Park. It's also an opportunity to highlight the sustaining efforts made to preserve such a natural wonder of Perth.
Location Is Everything
Perth is one of the best cities in Western Australia thanks to the festivals that are held here all year round. It's a place where you can experience the local culture, entertainment, and best parts of the city. Be.Fremantle properties are a great place to stay if you want to attend any of the best festivals in Perth.
Featuring some of Fremantle's best views, and with close proximity to all Fremantle has to offer, you'll find yourself at your new home away from home when staying with Be.Fremantle. Our staff will happily guide you on the best local hotspots and how to make your way around Fremantle and Perth easily using a variety of public transport or local hire services.
We often have specials and packages available for those travelling for events, tours or seasonal attractions so call our hotel directly for the best available deals and packages on offer and make the most of your next trip to WA.
/BY JUSTIN WARD