Fremantle in Autumn: 7 Events Worth Travelling to See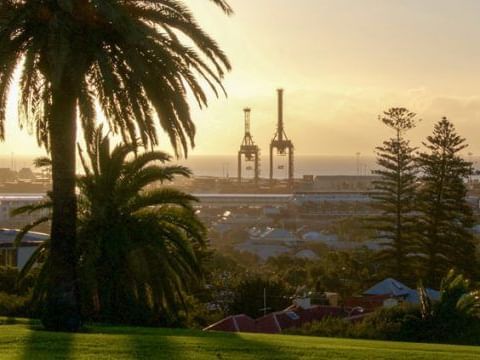 Autumn has arrived and Fremantle is bursting with things to do: festivals, one-off live events, international exhibitions and more. While summer might be the time of long relaxed evenings, it's Autumn when Fremantle really comes alive. At Be. Fremantle, you can put yourself in the heart of Fremantle and experience the best Western Australia has to offer.
Just take a look at what's on through March, April and early May…
Fremantle International Street Arts Festival 2019
The streets of Fremantle become a stage as the world's most extraordinary performers fill the city. Large-scale events like the Zap Circus Fire Spectacular will stop you in your tracks, while the 'sweet, suave and debonair' Charlie Caper will wow you with his magician's sleight of hand.
The diverse international line up also includes the 'Sculpture Clown' from Portugal, the quirky 'Birdmen' from the Netherlands and 'Anatol, Heart Mender', the French puppeteer on a mission to calm and care for the most broken of hearts.
With more than thirty individual performers and groups from around the world all coming together in Fremantle, you've never experienced anything like this before!
Image credit Fremantle Story
Sculptures by the Sea 2019
Cottesloe Beach becomes the backdrop to award-winning sculptures designed and created for this extraordinary 'Sculptures by the Sea' exhibition. Now in its fifteenth year, the large-scale artworks here are nothing short of spectacular.
Feast your eyes on Miik Green's prizewinning 'Thicket 018', or see why B. Jane Cowie's 'Swirling Surround' was the People's Choice Winner for 2019. Families will love it here too – take a short walk along the beach and you'll find yourself at the remarkable winner of the Kids' Choice Award. And these are just a few of the amazing works you'll find here.
With more than seventy artists from around the world, this exhibition features an enormous range of styles all merged with the breathtaking Western Australian coastline.
Fremantle Live Music
Is live music more your scene? Catch Amy Shark playing at the South Lawn Stage at the Fremantle Arts Centre. The spectacular outdoor venue, plus support acts Slowly Slowly and Erthlings, make this a unique and not-to-be missed event for any fans of up-and-coming Australian artists.
And if you're after something more low-key, check out the range of live gigs going on at the newly-redone Freo Social. Throughout Autumn the refurbished building (formerly an artillery drill hall) is host to John Butler, San Cisco and Dan Sultan to name a few. And if you're a fan of The Waifs, don't miss their one-off all-acoustic gig in April.
Image credit X-Press
Choral Fest
Fremantle's finest venues are filled with melodic voices for Choral Fest, the 'multi-venue singing extravaganza' that brings together more than fifty choirs from across Australia and the world. Covering a range of styles and celebrating Australian composers the line-up includes The Australian Voices, The Baden Street Singers, Rythmos Choir and Trinity Chorale.
Experience the acoustics at All Saints College Performing Arts Centre and the heritage-listed Moores Building Contemporary Arts Gallery as well as smaller, intimate venues like Kidogo Arthouse, Clancy's Fish Pub and the old Fremantle Prison.
Football Fever
Come one come all – it's footy time in Fremantle! Autumn is when it's all systems go – the Women's AFL is in full swing (head down to Fremantle Oval on March 16th to see Fremantle taking on North Melbourne) and the 2019 AFL season kicks off at Optus Stadium on March 24th. See what all the fuss is about when Fremantle dons the purple and comes together to share in one of Australia's greatest games.
And if you're after something more low-key, head down to a team training session for the chance to see the players up close and get a taste of the action.
Kylie on Stage – an Exhibition at the Western Australian Maritime Museum
She may be petite, but the scale and spectacle of her costumes is world-renowned. And for this Autumn only they will be in Fremantle's Western Australian Museum for you to see up close. Whether you're a fan of Kylie or a fan of fashion, this exhibition lets you into the behind-the-scenes world of the big stage. See the sequins, feathers and bodices that have made Kylie's shows into the spectacular events we've come to expect from her.
This is your chance to see the works of Dolce & Gabbana, John Galliano, Julien Macdonald, Karl Lagerfeld and Jean Paul Gaultier up close. The exhibition includes concept sketches for iconic pieces too, giving you a glimpse of how an idea comes to life. Through April you'll find a series of one-off Special Exhibition Events taking place in the gallery too, including 'Sunday Seminars: Fabulous Fashion', 'Over the Rainbow' and 'Journey of an Exhibition'. Don't miss your opportunity to marvel at Kylie's evolution from small-time Aussie performer to global icon.
Easter Long Weekend
Relax into the Easter long weekend at Be. Fremantle. Our waterfront location means you can unwind overlooking the ocean, the harbour or the marina. And our proximity to the best of Fremantle means you can make the weekend what you want.
Lie out on the beach (less than 300 metres from your door), or meander down to Fishing Boat Harbour to explore one of Fremantle's most beautiful precincts. Visit the Little Creatures micro-brewery, explore the Maritime Museum or walk to the nearby Fremantle Markets. Take a Be. Bike (available at reception) and head on out to explore Fremantle, Perth and our extraordinary coastland at your own pace.
With an average temperature of 25 degrees through April, you can create your perfect Easter weekend. At Be.Frementle, we pride ourselves on having well-informed staff who can share their local knowledge and help you plan your perfect weekend away.
For more on our Autumn accommodation specials take a look here or call us today. If you're ready to book, then simply check our availability and remember that our best prices are for customers that book direct.
/BY JUSTIN WARD