Visiting Fremantle: Our Perfect 1 Day Travel Itinerary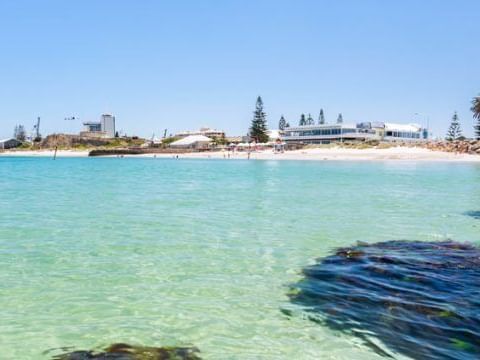 Fremantle is the perfect town for a mini-break. With everything you need in close proximity you can make your time here anything you want, from indulging in world class restaurants, exploring local history or getting back to nature, the choices are endless for a short visit.
So no matter how long you're staying for, take a look at our itinerary for the perfect day out in Fremantle…
Coffee and breakfast…
Start your day at Chalky's. It's the perfect place to relax and take in the seaside vibe that Fremantle has become known for. We think it's worth a visit just to see the striking black and white murals that have transformed this place into something really special.
Locals flock here for the coffee – sourced globally, roasted locally – this is where you'll find a good balanced cup to start your day. And while the coffee might be the initial drawcard you should definitely plan to have breakfast here too. The menu is full of delectable options like Chalky's 'double smash' (avocado, eggs, sriracha, savoury granola), truffled eggs with confit mushrooms, and 'the vegan scramble' made with chickpeas, eggplant, peas and toasted almonds. The staff are friendly, the food is great and the coffee will have you grabbing at a second cup. What more could you want to start the day?
Image credit: Chi Garden
Exploring Fremantle…
Immerse yourself in the history of Fremantle. Just a hop skip and a jump from Chalky's is the Roundhouse and the Whaler's Tunnel (you'll have a view of the tunnel from Chalky's) so why not stop in a check out what is in fact the oldest building in Western Australia.
From there, wander around the historic streets of the township and enjoy the sense of history hidden in the beautiful Fremantle laneways. Meander along to the Kakulus Sisters' Delicatessen where they 'live and breathe culinary exploration'. With one hundred and thirty to choose from you won't be able to resist their beautiful range of cheeses.
But that's just one display. The rest of the shop is bursting with spices, nuts, grains, pulses, confectionary, smallgoods, olives, and more from all around the world. Favourite sweet treats here include the soft Italian nougats and the classic rose Turkish delight but you really can't go wrong no matter what you choose.
To market to market…
Now that you're inspired, it's time to head down Market Street and visit the bustling Fremantle Market. You'll find fashion, crafts, homewares and foods all ready to catch your eye. Our must-visit stalls include Tricky Timber where you'll find beautifully-crafted wooden toys, puzzles, vases and utensils as well as amazing folding baskets made from jarrah. Jewellery at Tit F Tat and headwear at the nearby Hat Box are great for a glimpse of the funky and colourful style you'll find in Fremantle. Perfect if you need to pick up a gift for somebody back home!
The range of food is incredible too. If you want to dine here you'll find gozleme, sushi, poke, kofta and much much more. If you want something you can take back and add to your pantry at home, look no further than the beautiful Freo Honey Shack or the Turkish Food Club. And for a little something sweet head to Levi's Donuts, Ling Ling's Ice Cream House or The Chocolate Refuge – we guarantee you won't regret it!
The perfect picnic spot…
There are tempting restaurants everywhere in Fremantle but one of our favourite things to do is head to the Esplanade for a picnic. Hundred-year-old pine trees, lush grass and a backdrop of fishing boat harbour and ocean view glimpses make this a beautiful spot to be. Perhaps treat yourself with goodies from your morning at the markets and you're in for a wonderful al fresco lunch. If you're travelling with kids you'll find the nearby youth park fantastic; it has fun play equipment for all ages. Make sure you allow time to go on the Ferris wheel too. It provides spectacular views of Fremantle and out across the rugged Western Australian coast.
Riding around town…
Bike riding is really popular in Fremantle and it's a great way to see around town. Stop in at the visitors' centre on William Street and you can hire a bike for the afternoon. (While you're there say hello to the volunteer Fremantle Ambassadors – they're a wealth of knowledge about all things Fremantle.)
When it comes to choosing where to ride you can meander around Fremantle and explore the historical streets or head out of town for a look at the neighbouring areas. A dedicated bike path runs from the visitor centre to south Fremantle and along to south beach so you can see this breathtaking coastline up close and at your own pace. It's a lovely way to spend an afternoon and gives you a wonderful perspective of Fremantle and its surrounds.
Relax and unwind…
After a day of getting to know Fremantle, there's nowhere better to unwind than at the Bather's Beach House. Positioned right on the shore, this is the place to enjoy a drink, relax into dinner and watch the sun go down. The seafood here is spectacular and includes tantalising seafood platters, whole-baked barramundi and a spaghetti marinara that's near impossible to pass up. And if that doesn't appeal to you, local favourite Joy Kitchen is just around the corner, as is the Little Creatures' dining room Helm. You certainly won't be short of choice at Fishing Boat Harbour.
Looking For Accommodation?
At Be. Fremantle, we pride ourselves on having staff who are both knowledgeable and eager to help you. Chat with us when you book and we'll help you plan for your perfect visit – whether it's a day, a week or more we'll have you winding your way through Fremantle like a local. For more details or to book your stay at Be. Fremantle, contact us now.
/BY JUSTIN WARD