Fremantle Tram Tours – What's On Offer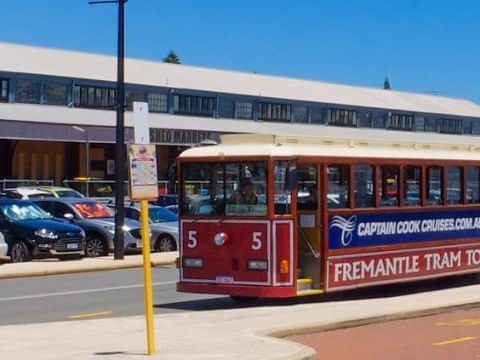 With so much to see and so many things to do, Fremantle tram tours are a fantastic way to get around town with your very own expert guide. For more than thirty years tram tours have journeyed around Fremantle giving tourists a chance to see and hear about Fremantle's rich history and main attractions. Today, there are many different tours to choose from. With hop on hop off daytime tours through to fantastic dinner and drinks tours, there's certainly something for everyone. Take a look at what's on offer…
Tour 1: The Hop On Hop Off Tour
This hop on hop off tour will take you to all the major tourist attractions in Fremantle and it's a great way to get the lay of the land when you've just arrived in town. Choose to do your sightseeing like this and you'll have access to the best parts of Fremantle, some of which would otherwise be inaccessible for large vehicles.
Why do we love it so much? It's a very easy, user-friendly way to explore Fremantle. Your ticket will allow you to get on and off at any of the six stops across town and it's valid for the whole day, meaning you don't have to feel rushed when you decide to make a stop. So take your time exploring the Fremantle Prison, Monument Hill, The Roundhouse, the WA Maritime Museum, Fishing Boat Harbour and the Fremantle Markets.
Beyond that, it's the tour guides themselves that make this tour so special. Enthusiastic, knowledgeable and entertaining, they can share the town's history, answer questions about what you'll find where, and help you to make decisions about where you'd like to spend your time.
Tour 2: The Rottnest Island Combo
This is the perfect tour for those who want to explore far and wide but don't have a lot of time. It includes a full morning tram tour around Fremantle followed by a ferry ride and an afternoon on Rottnest Island.
Settle in while your tram tour guide takes you around Fremantle showcasing the best this beautiful town has to offer. Visit the vibrant Fishing Boat Harbour precinct, the Western Australian Arts Centre and the imposing, convict-built prison standing tall up on the coastline. Your driver will regale you with interesting and entertaining commentary as you get to know Fremantle with your own personal guide.
Then it's time for Rottnest Island. A thirty-minute boat trip through the pristine waters of the Indian Ocean will take you to one of the most beautiful natural environments the world has to offer. Join the local bus tour and see the island's rugged coastline. If you've never seen a quokka, keep an eye out for this remarkable little Aussie marsupial – it's rarely seen outside of the island and some say it's even cuter than a koala. Make sure you pack your bathers too, because after lunch at the Bakery or Rottnest Hotel you might find time for a refreshing dip before returning to the mainland.
Tour 3: The Ghostly Tour with Dinner
Friday nights become other-worldly as the tram converts into a dining car and sets off from Town Hall. Delve into Fremantle's dark and complex history as you explore some of the oldest buildings here. The Roundhouse, the Fremantle Prison building and the Arts Centre all come alive with a ghostly glow for this torch-lit tour. That's not all there is to see though: once you've made it through the town's historical sites, it's time to visit Fremantle's prominent cemeteries. It's not called a ghostly tour for nothing.
With a meal of fish and chips and drinks on offer you can enjoy your dinner as you see the sights. So sit back, relax and enjoy this unique and exhilarating tour…
Image Credit: Visit Fremantle
Tour 4: The Triple Tour
For those who are looking to explore Fremantle and beyond, this three-staged tour is for you. You'll enjoy not just a tram tour but also a boat ride and an open-topped double-decker bus ride too.
Start your day in Fremantle with a guided tram tour. Explore the most famous sights on offer including the Fremantle Prison, the Arts Centre and then the vibrant Fishing Boat Harbour. Thanks to your enthusiastic tour guide you'll be an expert in local history by the end of the morning.
Then it's on to the Swan River Cruise thanks to Captain Cook Cruises. Relax and take in the scenery as you cruise past the Old Swan Brewery, the Royal Perth Yacht Club and Kings Park. There are some stunning multi-million-dollar homes to admire along the water's edge here too. Enjoy panoramic views of Perth as you travel slowly up the river, and as lunchtime rolls around you'll be ready to pull in to the Barrack St Jetty and make the most of the tempting restaurants or cafes in the quay.
The final leg of this tour is an exploration of Perth itself. Take your place in the open-topped tour bus and head out to Kings Park as Western Australia's beautiful capital city unfolds around you. This is a wonderful way to see Perth; the tour includes full commentary during your journey and will take you through Northbridge then on to Crown Resort before returning to the CBD.
There is so much to discover in Fremantle that it can be hard to know where to start. At Be. Fremantle we can help you to plan a visit that meets all your needs. Up to date accommodation specials are available online now so take a look for more information or to book your visit now. Whether it's booking tours, finding out local information or finalising your accommodation, contact us at Be. Fremantle and we will be happy to help.
/BY JUSTIN WARD