Stay in Perth or Fremantle: How to Decide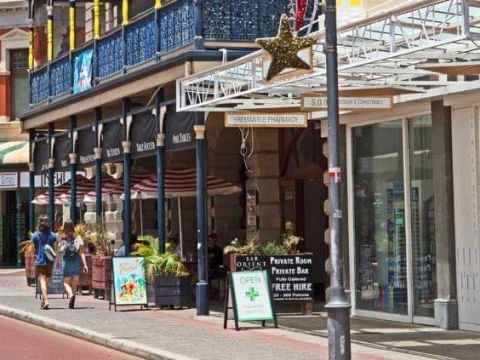 Perth
Perth is the capital city of Western Australia. It's the fourth largest and fastest growing city with a population of over 1.6 million people. Perth is an excellent choice for a short- or long-term stay.
Visitors to Perth can enjoy many of the highlights of Perth. One of the best parts about Perth is its diversity. The recent population boom comes as an influx of immigrants. Immigrants from many surrounding countries and continents have begun to settle in Perth. With them comes their cultural heritage and traditions. You'll find a wide range of international food and shopping options thanks to the diversity.
Perth is a city worth exploring even if just for one day. There are plenty of things to see and do in the city. A main attraction of Perth is the beach. Even locals find themselves spending lots of time on the beach. You'll have your choice of white sand beaches that line the city's coasts. Beach activities including swimming, surfing, fishing, snorkelling, or sunbathing are all common on the Perth Beaches.
In addition to the beaches, Perth has a very active environment with many other outdoor activities to see and do. Sports are trendy in Perth. You may be able to catch a football match or rugby game during your stay. You may also want to stop by the Adventure World Theme Park, the only one of its kind in Western Australia.
Nature is a significant benefit to staying in Perth. The beaches are one part of the environment, but there are many other destinations to enjoy the outdoors. Perth has many large city parks. It's also nearby to nature reserves. You can get a close look at Perth's native animals such as Kangaroos and Quokka.
To better make your decision, it's always good to know how easy it is to travel to other surrounding destinations. Day trips that are common from Perth include to Rottnest Island, Penguin Island, or Swan Valley for wine tasting.
Fremantle
Fremantle, or Freo, is the port city of Perth. It's located less than 30 min drive south of Perth. They share many of the same attributes because of the proximity.
Although they are neighbouring cities, it could be worthwhile to set up your base in Fremantle. Fremantle has a lot to discover that you might want to have a little extra time for enjoying. Compared to Perth, Fremantle has more historical significance. Being the port city, it's the location where the first settlers to the region arrived. From the early arrivals to the development of the fishing and boating industries, Freo received many immigrants. The immigrants shaped Freo into an art and cultural centre.
Many of the major landmarks in Fremantle are from the city's history. Many of the earliest structures were erected in Fremantle. The top landmarks include the Fremantle Prison, the Round House, and the Fremantle Arts Centre are all worth visiting while staying in Fremantle. After learning a bit more about the history, some people may be looking forward to spending time on the beach. Fremantle also has several beaches that line its shores.
The Fishing Boat Harbour is also a major draw as it's still an active port. You can even see boats entering and exiting or just spending time along the boardwalk. The boardwalk has become a popular pedestrian area which also has restaurants and bars lining the harbour. It's a place for a stroll or food and entertainment.
Fremantle is also a thriving tourist hotspot with the very popular Fremantle markets taking place from Friday to Sunday every weekend. But it's not just that, Fremantle is also known to be somewhat of a foodies haven featuring tasty cafes, restaurants and local bars that you can easily get lost in for an afternoon.
Fremantle makes an excellent destination for your stay because of the accessibility of the city. Freo is very walkable. If you're interested in seeing the top sites in the city, most of them can be reached on foot. Fremantle is also nearby to many other favourite destinations in Western Australia. When you stay in Fremantle, you'll easily be able to navigate to other areas for day trips.
Perth vs. Fremantle
The question of whether it's best to stay in Perth or Fremantle is frequently asked. With the cities having such common characteristics and proximity to each other, the answer is dependent on the type of vacation you're looking to have.
Perth is one of the largest cities in Australia, so it will naturally have more things happening around the city. It's a reasonably recent city, however, so there is a more modern atmosphere all around as compared to Fremantle.
Both cities allow you flexibility with transportation. Renting a car or using taxis can be faster and more convenient. If you want a more local experience, public transportation is readily available in both cities. Fremantle shares the public transportation system as Perth. When travelling to and from the airport, Fremantle is slightly closer. You can also take a short train journey, or catch an affordable uber, between Perth and Fremantle to have the best of both worlds
Accommodations vary between Perth and Fremantle. They can also vary in budget depending on the type of accommodation you prefer, and time you plan to visit. You'll find all of the major hotel chains as well as vacation stays and rentals. Our very own Be. Fremantle property can be located in Fremantle that gives you a combination of a comfortable stay with the flexibility to travel in and out of Fremantle.
We offer one of the best views from any hotel in all of Perth and customers can easily enjoy all that Fremantle has to offer with our close proximity to major attractions. Simply view our availability online to see if our hotel is available for your chosen travel dates.
/BY JUSTIN WARD