How Many Days Should Travellers Spend in Fremantle?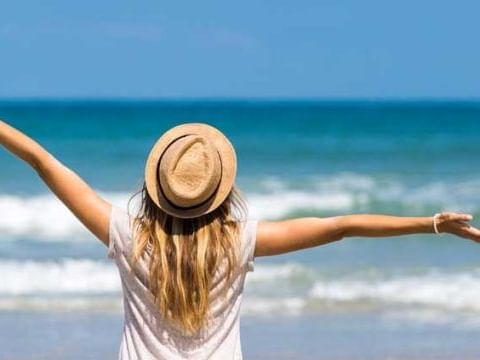 When you're planning a visit to Fremantle, we recommend staying for at least four to five nights, or a full week if you can.
Why?
Partly, because Fremantle is bursting with things to do: there's history, arts and culture to explore as well as amazing cafes, restaurants and bars. But, mainly, because the real beauty of Fremantle lies in its relaxed, beachside vibe. It's the kind of place where you just want to slow down and take it all in.
We've created this guide to help you plan your visit to Fremantle, so you can decide what to do and how long to allow for it in order to really make the most of this remarkable town.
Allow time to relax…
Even in Fremantle – where everything is relaxed and easy – it takes half a day or so to kick into holiday mode. Spend a morning meandering through the streets of Fremantle and get a sense of the style and character that makes Fremantle so unique.
Chalky's café is where the locals get their morning coffee fix (and they knock up a fantastic breakfast too). The Fremantle Markets are a great place to visit early in your stay too. With a wide array of food stalls, jewellery, clothing and more, you can mingle with the locals and immerse yourself in Fremantle culture. When you've finished at the market, set off to one of Fremantle's beachside picnic spots, or head straight to the water for a swim.
Tip: The hop-on-hop-off bus is great to get the lay of the land when you first arrive. Take a look here for all the best ways to get around town.
Tap into local history…
From cobblestoned laneways to old-world architecture, Fremantle is littered with little glimpses of times gone by. Nothing stands out more though than the original Fremantle Prison and The Roundhouse. Both were built by convicts who painstakingly moved limestone bricks uphill to create these extraordinary buildings. The Roundhouse, with its unusual near-octagonal design, was built in 1831 making it the oldest building in Western Australia. It's a fascinating place to tour, and if you book in advance you can witness the Cannon Firer time signal and gun at 1pm each day.
When it comes to Fremantle Prison, it's worth investing a little more time. We'd suggest a full half day here in order to make the most of the tours on offer. While a standard tour will give you a great sense of what life was like for prisoners, you can also book in to hear about the most famous jailbreaks in Western Australian history or take a tour below the prison to explore the deep dark tunnels made by prisoners. Both are amazing experiences.
Tip: For those wanting more of Fremantle's rich local history, check out the Shipwreck Museum – you won't be disappointed!
Head to Rottnest Island…
Rottnest Island is one of the biggest drawcards of the area, and rightly so. The ferry ride from Fremantle takes only twenty-five minutes and once you're on the island you can meander your way around the walking tracks and explore, taking in the beautiful scenery as you go. You may even spot a native Australian quokka – a cute little marsupial rarely seen anywhere but on Rottnest. The island is car-free, but if walking doesn't appeal to you there's also a hop-on-hop-off bus option, as well as bikes for hire. Another great option is the Segway tour which can help you to see a lot in one day.
Swim or surf in one of the spectacular Rottnest beaches, enjoy golf at the local links or make the most of the Family Fun Park. If you're after some relaxation time, make sure you check out Karma Spa where you can enjoy a range of treatments including Balinese massages and more.
Half-day tours of Rottnest Island are available, but we highly recommend taking a full day to explore.
Tip: Check out our Experience Rottnest package when planning your trip.
Experience local arts and culture…
WA Maritime Museum is a hub for arts and culture in Fremantle. They attract world-class exhibitions with the latest being Kylie on Stage – a showcase of Kylie Minogue's most iconic costumes and showpieces. Allow a full morning here to check out other through-provoking experiences like the Cocao 'Sound and Ceremony' sessions (scheduled through July) or the authentic cold-war era submarine that's on display and ready to explore.
Next stop is the Fremantle Arts Centre. An afternoon here will fly by, so make sure you leave time to see the large-scale Trevor Richards 'Ground Plane' exhibit as well as the Revealed Exhibition – a showcase of incredible works by emerging aboriginal artists.
Enjoy the World's Best Beaches…
When it comes to Fremantle beaches, the pictures speak for themselves. Pristine blue water, soft white sand plus cafes, restaurants, and barbecues nearby so that you can easily settle in for the day. No matter what your timeframe is, the beaches here are a highlight of any trip, and you'll probably want to spend at least two days making the most of them. With many different spots to choose from, our favourite is Bather's Beach, a calm, beautiful beach just 300 metres from your doorstep at Be. Fremantle.
If you're looking for the best Beaches in Perth & Fremantle, then check out our guide.
Be drawn in to Fremantle's buzzing nightlife…
Live music is a big deal in Fremantle. There's a focus on supporting new local talent (after all, John Butler made his start busking on the streets here), and the town's reputation means there are some big names coming through now too. Through winter Fremantle is host to the Hidden Treasures Winter Music Series as well as the RTR FM Winter Music Festival.
There are restaurants and bars aplenty in Fremantle with a great range of styles and cuisines to choose from. Fine-dining restaurants like Helm set the bar for food and ambience (their 270° views are amazing), and you'll also find brilliant old-school pubs like The Swan. Whisper Wine Bar and Strange Company both provide fantastic nights out: chilled and relaxed during the week, buzzing on Fridays and Saturdays. With comedy clubs, karaoke bars, live gigs and more, you'll want at least a few nights here to tap into the thriving Fremantle nightlife.
Tip: Take a look at our guide to live music in Fremantle for the best venues around town.
Book Your Trip Today – Stay In The Heart of Fremantle
Our staff at Be. Fremantle will be happy to help you plan your perfect getaway. Book your stay now and take advantage of our specials, including your chance to book for three nights and get one night free. Make sure you check out our '5 night Pre-Pay and Save' deal, as well as our 'Experience Rottnest' package too.
/BY JUSTIN WARD