7 Unmissable Travel Experiences in Perth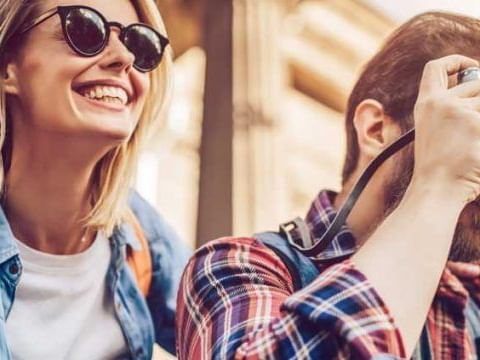 Nowhere in the world can you find more beautiful views of the ocean – or more spectacular beaches – than on the West Australian coast. Whether you're visiting for work or for a well-earned holiday, make sure you know what's on offer so you can decide what to see and where to stay. The two cities, Perth and Fremantle, sit side by side and are only 25 minutes apart by train or car. Both are spectacular, and both will have you falling in love with Western Australia in no time.
Check out our overview of the most unmissable experiences when visiting Perth…
Rottnest Island
Rottnest Island is definitely an unmissable experience when visiting Perth. Just a twenty-five-minute ferry ride from Fremantle (or around 90 minutes form Perth's Barrack Street Jetty), a day at Rottnest is easy and fun. The natural environment here is truly magnificent: walking paths meander through bushland and along the rugged coast taking you all the way up to the lighthouse lookout.
If you're lucky, you'll encounter a quokka – the very cute little native marsupial found here and rarely seen outside of Rottnest. The island is full of activities, places to dine and beaches to explore. The Family Fun Park is great entertainment for kids, while the nearby golf club and Karma Spa provide excellent ways to unwind.
Kings Park
The Perth Botanical Gardens really are fit for a king. Larger than New York's Central Park, Kings Park is made up of stunning manicured gardens, expanses of lush green grass and beautiful native bushland. Fancy a walk through the eucalyptus canopy? You'll find a 600m walkway so that you can explore the treetops and finish with an extraordinary view out over the city. There are multiple spots for picnics, so bring your lunch and make the most of this spectacular park.
Cottesloe Beach
Just north of Fremantle you'll find Cottesloe Beach, one of the most inviting beaches in the area. Given the quality of the beaches here, that's really saying something. Enjoy a swim or try your hand at a bit of paddle boarding if the waters are calm. It's an excellent place to snorkel and there's nothing quite like seeing schools of fish darting about just under the water's surface. Enjoy a seaside walk and admire the views of the Indian ocean, or settle in at one of the beachside bars and relax as you watch the waves roll in.
The Swan River
Book yourself in to a river cruise – you won't regret it. This scenic journey down the Swan River will give you a unique view of the city, and you can set off or finish at either Perth or Fremantle. There are lunch tours available and twilight tours as well. Is there anything better than cruising down the river, champagne in hand, watching the world go by?
If you'd rather stay on land, you should head to Elizabeth Quay and walk or ride around Riverside Drive. There are bikes for hire, which can be a fantastic way to get around and see all the things you want to see. Explore the waterside precinct with its shops, cafes restaurants and more, and make your way around towards Barrack St Jetty.
Perth's Bell Tower
In between Elizabeth Quay and Barrack St Jetty is Perth's Bell Tower. An architectural standout, the Tower was built to mark Australia's bicentenary in 1988. The design was actually determined by an architectural competition launched in the lead up to the bicentenary. Inside the tower are twelve bells from London's St Martin-in-the-Fields Church, together with six bells made from metals mined from the Western Australian landscape.
The bell ringers ring the bells from 12pm – 1pm each Monday and Thursday, and often on Sundays at midday too. During the week though, you can book in for a Bell Tower Chiming Experience, where you can have a go at ringing the bells yourself. It's an amazing experience and well worth booking in for.
Exploring Fremantle
History, music, the arts – Fremantle has its own charming style and character. Compared to the shiny new buildings in Perth CBD, there is history everywhere you look in Fremantle. Cobblestoned streets, grand old architecture and laid-back, positive vibe characterise this unique coastal town. Tour the old Fremantle Prison, explore the Arts Centre or visit the Western Australian Maritime Museum for exciting exhibitions.
Fremantle prides itself on its hospitality and as a result you'll find some of the finest coffee houses around. (Check out Chalky's or the Grumpy Sailor to start with.) Treat yourself to a morning out at the Fremantle Markets and you'll soon get a sense of the local culture. Food, clothing, jewellery and homewares as well as indigenous artworks are all on offer here. When it's time for lunch or dinner, head to Bather's Beach House or Cicerello's to enjoy a meal right on the water – it's a quintessential Fremantle experience. Take a look here for more on exploring Fremantle.
Breweries, bars and more…
Check out the Sail and Anchor pub, home of Matilda Bay Brewing and Co. and the first real craft-beer brewery in Australia. Nearby in Fremantle you'll find the sensational Little Creatures Brewery – they offer not just beautiful craft beers but also an excellent space to chill out and enjoy them. For a quiet glass of wine in Perth try the Mechanic's Institute, and we'd definitely recommend Varnish on King if whiskey is more to your taste. For something new, visit one of the many live music venues in Fremantle where you can hear some excellent local artists. For a run down of what's what, check out our overview of Fremantle's Live Music Scene.
Planning your stay…
Whether it's a work trip, a family holiday or a romantic getaway, there are a million ways to make the most of a trip to Perth. At Be. Fremantle you can have a relaxed 'home base' right on the waterfront, only twenty-five minutes from the heart of Perth. Close to trains, ferries, taxis and buses, you'll find it easy to get around from Fremantle. Our knowledgeable staff would be happy to help you plan your trip, so check out our specials and contact us today to secure your stay at Be. Fremantle.
/BY JUSTIN WARD