Fremantle Events: A Guide to Winter in Fremantle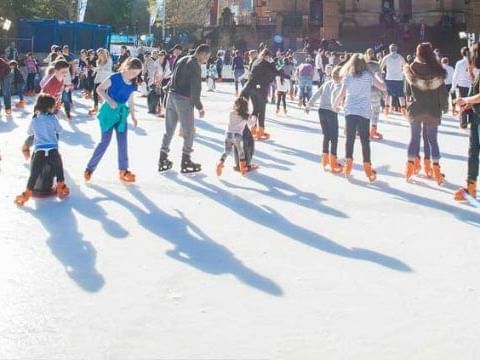 It may be a coastal town, but there's no slowing down for Fremantle through the winter months. Festivals, events and one-off experiences just keep coming, ready for you to enjoy. So whether its ice skating, hitting a music festival, taking in a show or chilling at a wine bar, it's always the right time to visit Fremantle.
The Fremantle Winter Festival
The '10 Nights in Port' Festival is a celebration of music, theatre, visual arts, film and live performance. The festival runs from 12th – 29th July and is a wonderful way to experience Fremantle in all its glory. Start with a visit to the pop up 'artists greenhouses' or take part in the mystery of a Cacao Ceremony at the Maritime Museum. Enjoy an immersive food and music experience with musician Felicity Groom or, for something different, check out Vegas sensation Miss Behave at the newly-renovated Freo Social. With so many events to choose from, you'll soon see how Fremantle comes to life during winter.
Image Credit: buggybuddys.com.au
Winterworld Outdoor Ice Skating and Festivities
The Esplanade transforms into a winter wonderland as Australia's biggest outdoor ice-skating rink comes into town. Skating is made fun for all ages with easy first skates for kids and 'support penguins' for tiny tots as they get started. Forget sandpits, here you'll find a real snow pit where you can build your own snowman, plus unicorns, craft activities, face painting and a snowy Enchanted Forest. For something different, why not try one of the free circus workshops? When it's time to warm up, head to the nearby blazing firepits where you can toast marshmallows and warm yourself through. The Cabin Bar has everything you need and is within easy reach of the rink, so you can stop for lunch and then head straight back out on the ice.
Image Credit: Winterworld.com.au
RTR FM Winter Music Festival
Fremantle's live music scene isn't' going to be stopped by a little cold weather. The RTR FM Winter Music Festival, now in its thirteenth year, takes over north Fremantle to bring you more than 35 acts in one evening. Mojo's Bar, Guildhall, the Railway Hotel, North Fremantle Bowls Club and The Swan will all be buzzing with the likes of Applejack and Moonshine, Flossy, DJ Salty and more. You'll find everything from blues, jazz, folk and indie pop through to hip hop and electronica. Make sure you're in town for this one – it's a music-lover's dream!
Winterwares Ceramics Workshops
Treat yourself to something different and book in for a winter workshop at Winterwares ceramics. Winterwares is your chance to tap into the creative, calming spaces created by ceramicist-owner Simone Nabholz. The shop, filled with beautiful hand-crafted ceramics, doubles as a studio where you'll be encouraged to slow down and enjoy the beauty of 'mindful making' while creating your own ceramic piece. A class here includes all the materials and tools that you'll need for the day, plus a nourishing lunch and freshly baked cakes for afternoon tea. All in all, it's a beautiful winter experience.
See Hugh Jackman live on stage in Perth
Be drawn in by the bright lights of showtime and head to Perth (it's only twenty-five minutes away, after all) to share in the glitz and glamour that is Hugh Jackman: The Man, the Music the Show. Featuring hits from Les Miserable, The Greatest Showman and The Boy From Oz, the show has been described as 'irresistibly good fun' – and it's coming to Perth in August.
'Strange Editions' – the Strange Company Book Club
'Strange Editions' is the brainchild of the owners of super-hip Fremantle bar Strange Company. It's a book club, but in a bar, and it's been quite a hit. Hear from a local Fremantle author as they discuss the selected book with the editor of The West Australian. So sit back with a wine, a cocktail, a cider or whatever takes your fancy and enjoy a literary night out in one of Fremantle's finest wine bars.
Bib and Tucker's Winter Series – Truffle and Cheese
Did you know that truffles are more expensive than gold? Find out why when Bib and Tucker – the spectacular oceanside restaurant owned by three former Olympians – brings back its Truffle and Cheese night. Enjoy a four-course truffle dinner as David Coomer from Coomer Truffles shares his insider knowledge on growing, harvesting and enjoying this amazing ingredient. This is one you don't want to miss!
Cabernet and Canvas
With a glass of wine in one hand and a paint brush in the other, Cabernet and Canvas is all about getting creative while enjoying a relaxed evening out. What could be better than that? The team at Cabernet and Canvas partner with local artists and venues around Perth and Fremantle so that you can relax and be guided through your evening of painting. You don't need any special skills – your instructor will take you through the step by step process of transforming your blank canvas into a masterpiece, all while you enjoy drinks, nibbles and inspiring tunes.
Made on the Left Winter Market
Made on the Left is an exclusively hand-made market, designed to bring together the best of what Western Australia has to offer. Find amazing jewellery, homewares, art, clothing and more. Pick up a special one-off gift, try some amazing local produce or just soak up the atmosphere as traders come together to share their wares. This year's market is inspired by the theme of 'winter wonderland', so head to the Esplanade Hotel on 13th and 14th June and see what all the fuss is about.
Need Somewhere To Stay In Fremantle?
Book your stay at Be. Fremantle and enjoy the peace and quiet of our waterfront location while still being close to everything. Our knowledgeable staff can help you plan your winter getaway and chat with you about what's on in Fremantle throughout the year. For more details or to book your stay contact us now.
/BY JUSTIN WARD