8 Things to do with Kids in Fremantle on School Holidays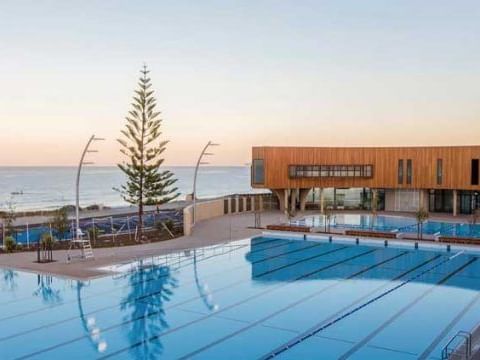 School holidays are all about relaxing and sharing great experiences as a family and there's simply no better place to do that than in Fremantle. With so many wonderful family-friendly activities within easy reach, you'll have a hard time choosing which to do first…
Bather's Beach
White sand and bright blue waters: this is perfect place for building sandcastles, going swimming and relaxing in the sunshine with the family. It's also home to Bather's Beach House right upon the shore where you'll find some of the best seafood around (check out their amazing seafood platters) together with an easy and inviting 'Little Nippers' menu for the kids.
Once evening rolls around, nothing beats soaking up the beachside atmosphere as you watch the sun go down. And what's more, it's all just 300 metres from your doorstep if you choose to stay at Be. Fremantle.
The Roundhouse
Spark the kids' imagination with a visit to The Roundhouse. Opened in 1831, this is the oldest public building in all of Western Australia. Its near-octagonal configuration was purpose-built from local limestone in order to house everyone who had committed a crime. The building functioned as a prison until 1886 and has served many different purposes since, including as the residence of the Police Chief and his family and as a base for the Western Australian water police.
While tour bookings aren't necessary, it is a good idea if you'd like to experience the daily 'Canon Firer' tour.
WA Shipwrecks Museum
Exciting for both children and adults, this is no ordinary museum. A visit to the Shipwrecks Museum will give you an eerie sense of Australia's history and change the way you look at the Western Australian coastline. Relics from the Dutch wreck Batavia, dating back as far as 1629, can be seen here in the meticulously-reconstructed stern of the ship.
A viewing platform gives an opportunity to sense its scale and grandeur, as well as the amount of work undertaken to retrieve, restore and display such a remarkable piece. This fascinating museum also holds an extensive collection of relics from other Dutch wrecks including the Zuytdorp, Zeewijk and Vergulde Draeck, all of which fell victim to the then-unknown Western Australian coastline.
And for those with a sense of the macabre, you can view a skeleton retrieved from one of the wrecks too. Free tours can be booked in advance, and current special exhibits include 'A Ticket to Paradise?', an exploration of individual stories of immigration to Australia.
Image Credit A Couple of Backpacks
Esplanade Park and the Esplanade Youth Plaza
A family holiday in Fremantle wouldn't be complete without a visit to the Esplanade Park. The enormous playground suits all ages with multiple slides, climbing areas and platforms plus a standout rope climb that's bound to capture the kids' attention.
This is a great place for picnics too, with an expanse of lush grass bordered by beautiful hundred-year old pines. The nearby Ferris wheel is a huge drawcard offering amazing views of Fremantle and out across the ocean.
Fremantle Prison
The convict-built prison looms large against the clear blue skies of the coastline. A striking building, the prison served as a maximum security gaol from 1887 -1991. Now, you can take a tour and learn all about what daily life was like for prisoners in times gone by. There are also additional experiences that are well worth exploring and really make this an amazing experience for kids.
The True Crime tour (suitable for children over 10) explores the crimes of Western Australia's most notorious criminals including bushrangers, bank robbers and murderers. The Locked Up! tour (suitable for 8 – 12 year olds) takes kids through the prisoner experience from mugshots through to daily work activities and, finally, parole. The Escape Tour (designed for 5 – 12 year olds) highlights the places where the most desperate, dangerous and daring escape attempts took place.
For a cool and unusual experience that the kids will be talking about for months, make sure you include a trip to the Fremantle Prison.
Rottnest Island
The excitement of a ferry ride is just the beginning. Rottnest Island holds everything you need for a fantastic family day out. Swim, snorkel, play cricket on the beach and marvel at the natural wonderland that is Rottnest Island. Hiring bikes is a great way to start, giving you the chance to explore in your own way and at your own pace. We recommend the Captain Hussey train ride to Oliver Hill, as well as the amazing Quokka Walk. At the Family Fun Park you'll find mini-golf, trampolining, arcade games and more, or head to the Aqua Park for an inflatable water world. What more could you need?
Outdoor Scarborough Beach Pool
Why is the Scarborough Beach Pool so special? It's not just the grand scale of it all. (Although the 200-seat grandstand, the fifty-metre lap pool, the separate leisure pool and the poolside sun lounges do certainly make an impression.) It's special because it's geothermally heated, meaning that all year round it's a perfect 27 degrees. So no need to think about the weather. And what's more, you've got extraordinary views as the Indian Ocean sparkles in the background.
Fremantle Boat Harbour
This vibrant precinct is one of the most celebrated in Fremantle. It's close to everything and gives a wonderful sense of the seaside energy that keeps Fremantle thriving. Having sprung up from one single jetty in the 1830s, it is now a thriving hub with more than a dozen restaurants. A visit here must include a walk through the 40 metres of aquariums at Cicerello's. Access is free and gives the kids a chance to glimpse an underwater world replete with blue-ringed octopuses, sea cucumbers and a tank of enormous lobsters.
Planning your holiday…
These school holidays get away from it all and make lifelong memories with your family. At Be. Fremantle, our apartments give you the space to relax with everything you need on your doorstep. Book now and take advantage of our amazing specials or contact us for more.
/BY JUSTIN WARD