5 Days in Perth: Your Perfect Itinerary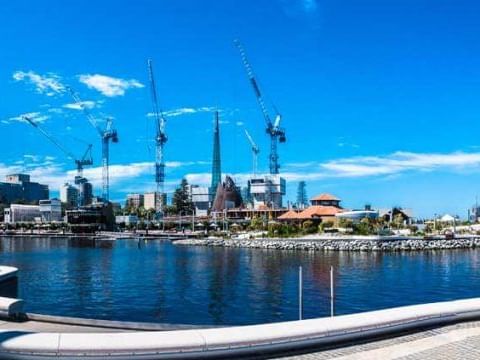 If you're looking for sunshine, fresh air and a truly Australian experience then Western Australia has everything you need. Our five-day itinerary will guide you through how to make the most of Perth and its surrounds – from cruises down the Swan River to day trips through the extraordinary woodlands to the east. We'll give you some tips on choosing a good home 'base' to set off from, and will give you our top picks for coffee, meals and places to relax.
Elizabeth Quay
Elizabeth Quay is the most popular attraction in Perth and it's worth a full day to explore properly. Start with a boat cruise down the Swan River and meander past the bustling city. With a backdrop of blue skies and even bluer water, a cruise here gives a wonderful and unique perspective of the city. At the Quay itself you'll find some beautiful places to sit and enjoy a coffee or a spot of people-watching. A particular highlight is the interactive water park where creative lighting and fountains of water create an experience that's beautiful to watch.
The bell tower nearby houses one of the largest musical instruments on earth, the 14th century bells of St-Martin-in-the-Fields church in London. Believe it or not, you can take your turn to ring some of the extraordinary bells here. The Quay is also home to an exquisitely hand-crafted Venetian carousel, the likes of which you won't find anywhere else in Australia. The suspension bridge, with its sweeping white arches, is enticing to walk along and gives a beautiful view of the city from above its sparkling waters.
With plenty of places to dine you'll be spoilt for choice. Rooftop or riverside? Or both if you prefer. Keep an eye on local guides as well because there's often a pop-up event or market taking place here too.
Rottnest Island
Just a ferry ride away you'll find the jewel in Western Australia's crown – Rottnest Island. The ferry itself takes around twenty-five minutes from Fremantle, or around ninety minutes from Perth's Barrack St Jetty. Either way, Rottnest Island is a chance to experience Australian nature at its finest. Bikes are a great way to get around on this car-free island, but its also very walkable if that's your preference. There are guided bus tours to make getting around easy, and you'll find your tour guide full of useful information about what to see and where to eat. After lunch we recommend checking out the reef. You can even take a semi-submarine – it's a great way to explore the rich marine life just below the surface.
View our detailed guide to touring Rottnest Island.
Fremantle
Step out of Perth for a moment to witness the charm and style of Fremantle. The vibe here is relaxed; you'll find beachside eateries, world-class beaches and a buzzing nightlife. Start your day at the renowned Fremantle Markets where there's an abundance of fresh food as well as beautiful homewares, clothing, jewellery and more. It's a great place to grab a morning coffee as you meander through the stalls. If you're interested in history you definitely need to check out the Freemantle Prison and the Roundhouse. Both were built by convicts, and the Roundhouse is the oldest building in Western Australia. When the sun goes down Fremantle really comes alive with wine bars, restaurants, live music, comedy clubs and more, all with Fremantle's trademark chilled out vibe.
The Perth Hills
If you've got a full four or five days to explore, you'll definitely want to hire a car and make the most of the amazing natural beauty surrounding Perth. Start with a scenic drive to Kalamunda, a quaint historic town with lots of friendly locals. Markets are bustling on the weekend and are overflowing with local produce. On your way there, make sure you stop in at Guildford and see their remarkable 'burnt down' hotel, and at Bolt Coffee Yard for the best coffee around. Heading on from Kalamunda take The Zig Zag – a road that winds its way through scenic bushland. Stop in at Mundaring for a bit of kangaroos-spotting, then on to Core Cider House for an early evening cider and a bite to eat.
Margaret River
Make the most of that hire car and get yourself to Margaret River – it's not world-renowned for nothing. You're looking at around two and a half hours to get to your first stop – Busselton. Busselton is a beautiful little seaside town and a lovely spot for breakfast or brunch. It features the longest pier in the southern hemisphere – a lovely place to eat or just to take a walk out over the bright blue waters. Next stop is Yallingup, a beautiful place to swim, surf or just take a walk along the coastline. After all, you need to build up your appetite for your next stop – Margaret River.
Margaret River is the foodie paradise you've imagined, with the best of local produce showcased in restaurants, cafes and wineries everywhere. While its known for wine, you'll also find beautiful places featuring cheese or chocolate too. Finally, for the return trip, Caves Road will take you through a remarkable wooded area. The bushland here creates a wonderful atmosphere, and if you feel so inclined there's a very special hand-built maze to explore here too.
Choosing your 'home base'
Every list of 'things to do in Perth' will have Fremantle on it. And once you visit, you'll wish you were based in Fremantle too. Skip the city and take advantage of the fact that after just a twenty-five-minute train ride you can be breathing in fresh seaside air and making the most of one of Australia's most beautiful coastal towns. If you're arriving at the Perth airport, Fremantle is only thirty minutes away (with Perth CBD taking twenty minutes anyway). Hire a car, tap into the of the Central Area Transit buses or make the most of the local uber service too.
Whether your visit is for business or a holiday, setting up in Fremantle will keep you close to the action while giving you the chance to unwind and experience the relaxed, Fremantle vibe in the evenings. What more could you want?
/BY JUSTIN WARD