Fremantle Highlights within 1km of Be. Fremantle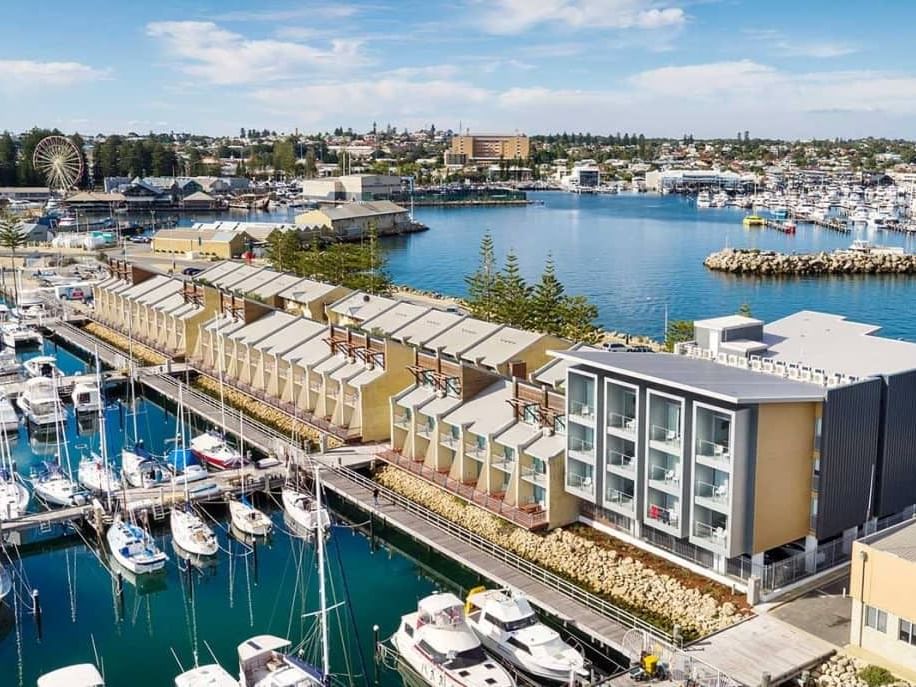 When you book a room at at Be. Fremantle you can rest assured that you'll be close to all the major attractions in Fremantle. Who wouldn't love a relaxing waterfront haven that's also close to everything?
Take a look at what you'll find within just 1km of your doorstep at Be. Fremantle…
Bathers Beach
The spectacular Bather's Beach is just 300 meters from Be. Fremantle. It's an idyllic area: the protected waters here are generally calm and beautiful for paddling and swimming. The beach is divided into the north and south precincts, all easily walkable. The south beach is closest to Be. Fremantle and Fishing Boat Harbour and is where you'll find locals heading with their families for a spot of swimming and a play on the sand.
It's also the perfect spot for a picnic or dinner on the beach. Bather's Beach House provides a beautiful spot to sit, right on the beach, or you can grab a bite from Fishing Boat Harbour and set up an easy beach picnic. If you're visiting in summer, make sure you check out the South Beach Sunset Markets too. Past the stone wall that divides the beaches you'll find north beach, which is home to The Roundhouse (take a look below for why this is a must-visit destination) and Kidogo Arthouse – an independent art hub which houses galleries and pop up events.
The Roundhouse
Not more than 500 metres walk from Be. Fremantle is The Roundhouse. This is an architectural marvel not just because of its shape (it's an unusual dodecagonal design, meaning it's a twelve-sided building) but also because it is the oldest public building in the state of Western Australia. The Roundhouse was built in 1830 and served initially as a prison for local convicts.
It was built in part by prisoners themselves, utilising locally-mined limestone for the majority of the structure. Now accessible for visits and tours, treat yourself and get up close to this fascinating historical building.
Fishing Boat Harbour
There's no doubt about it – Fishing Boat Harbour is one of the most beautiful parts of Fremantle. In fact, it's one of the most visited places in Perth. Dining here is a true pleasure: choose from dozens of restaurants and cafes all with spectacular views of the water. You'll find passionate vendors cooking up a storm with freshest seafoods around. Take advantage of Be. Fremantle's Stay and Dine Deals to make the most of your visit here.
Beyond the amazing food, Fishing Boat Harbour is also home to The J Shed, where some of Fremantle's most talented and iconic artists showcase their works. The building itself is now considered a 'living artwork' reflecting the many artists and styles of Fremantle. Make sure you take the kids to the Harbour's 40-meter aquarium too. Find Nemo, marvel at the lobsters and get up close to a blue ringed octopus. It's great fun for kids and adults alike. At the end of the Harbour you'll find Little Creature's brewery which is a great place for a craft beer or a bite to eat.
Sunrise View over Fishing Boat Harbour
The Fremantle Ferris Wheel
Stunning views of the coastline, the Indian Ocean and the town can all be had from this amazing beachside Ferris Wheel. The fully-enclosed gondolas allow you to feel totally relaxed as you cruise to a height of 40 metres. Six people can fit in each cabin and the ride lasts for around 15 minutes, giving you ample time to take in the sights. The Ferris Wheel is located just 500 metres from Be. Fremantle and gives you views right out to Rottnest Island. This is definitely an experience not to be missed!
The Esplanade Youth Plaza
Once you've visited the Ferris Wheel you'll find yourself right next to the Fremantle Esplanade Reserve which is home to the Esplanade Youth Plaza. Designed with young people and families in mind, this park area has play equipment suitable for all age groups. It's surrounded by lush green grass great for kids to run around on or for a family picnic. Hundred-year old pine trees create a beautiful backdrop to the park and you'll also find areas specifically set up for skateboarding, BMX and scooter riding. When this youth plaza first launched in 2014 it received awards for urban design and it's not hard to see why.
The WA Shipwrecks Museum
Just 500 metres from Be. Fremantle, this remarkable museum is your opportunity to see hundreds of relics recovered from ships wrecked along the treacherous West Australian coast. View the painstakingly restored hull of the Batavia which was wrecked off the coast in 1629. Relics here include coins, lace, cannons, maps and pottery recovered from the Batavia as well as from other Dutch wrecks. Learn the fascinating stories behind these voyages and their ultimate demise: you'll never look at the coastline the same way again.
Venturing a little further afield…
All of these remarkable places are within 1km of Be. Fremantle. Just beyond that though you'll find even more to explore. Ask our staff to point you towards the WA Maritime Museum (just 1.1km away!) or the amazing Fremantle Markets – a highlight of any trip. If you're interested in history, make sure you set aside some time to visit the Fremantle Prison too. The fortress-like building is incredible, and the tours on offer will give you an amazing insight into life in prison in the 1800s. The major attractions in Fremantle are all within easy walking distance, but you'll also find Be. Bikes for hire if that's more your thing. If public transport is your preference, check out the many guided tram tours that make it easy to get around Fremantle too.
Secure your booking at Be. Fremantle to put yourself in the heart of Fremantle. Our Experience Fremantle accommodation deals and early bird packages make booking easy. For more information, contact our staff and we'll help you with which of our specials is right for you. What are you waiting for?
/BY JUSTIN WARD