Best Time to Travel to Perth for Your Next Holiday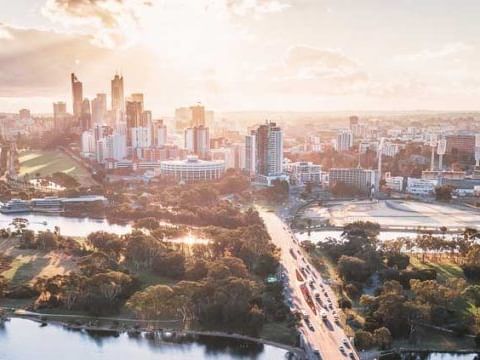 Perth is an isolated city that is nestled on the western edge of the Australian mainland. It boasts more than 19 pristine beaches that are easily accessible, and are famous for a wide range of activities including surfing and snorkeling. The city is also gaining popularity for its summer festivals, concerts, and art exhibitions that are held throughout the year.
Being one of the sunniest cities in Australia, you can expect warm weather in Perth for most of the year. But how do you know when the best time is to visit this bustling capital?
In this post, we will discuss the ideal months for staying in Perth based on the events held during each season, the overall climate, and the types of activities you can take part in during those months:
August and September
This time of year features comfortably mild weather when winter slowly comes to an end to give way to spring. By scheduling your travel between the beginning of August and end of September, you are able to avoid the brunt of winter, while still feeling some cool air from the colder months.
You will get to enjoy not just a comfortable weather, but also gorgeous views, as many parts of the city are transformed by the blooming of native wildflowers. Western Australia is best known for the having the largest collection of wildflowers in the world, with over 12,000 wildflower species covering the landscapes in spring.
You don't need to explore outside the state capital to see the wildflowers at their most spectacular either. Simply join a free guided tour of Kings Park where you will find pixie mops, orchids, and milkmaids. Kings Park is one of the biggest inner city parks in the world, with a total area of 990-acre. Traveling between August and September means you can admire the spectacular view of wildflowers in the park with small crowds, and the most comfortable temperature.
Some of the best attractions in Perth are better explored in August and September. One great example is The Pinnacles, which is a mysterious desert in Nambung National Park that has limestone pillars that dot the landscape.
It is a two hour drive north of the capital city, but can be difficult to explore during summer when the weather is almost unbearable. When visited in August or September, you can take your time learning about the theories behind the formation of the protruding pillars, as the weather allows you to have a more comfortable tour of the place.
Perth also comes alive with interesting events around this time. There's the Perth Science Festival that takes place in August, and lets visitors experience explosive shows, and hands-on activities that are related to a variety of areas, from robotics, to astronomy, to forensics.
If you enjoy immersing yourself in a city's heritage, and simply want to discover more of what Perth has to offer in terms of historic structures, then you won't be let down. Just 500 meters from your hotel room in Be.Fremantle is the WA Shipwrecks Museum – a Commissariat building that has been restored to showcase hundreds of cultural and scientific collection including artefacts from ships wrecked along Western Australia.
Summer
For visitors who are planning to travel to Perth for the world-famous beach destinations, summer may be the best time to do it. You can pack light, and bring only the essentials, which makes traveling a lot easier. The warm weather will inspire you to venture outdoors, discover local food, and even travel to other parts of the city to explore hidden gems.
Here are some activities best enjoyed in Perth during the summer season:
Cycling around the capital
There is an abundance of natural beauty and magnificent views in Perth that are best enjoyed by cruising around on two wheels. It does not matter whether you are a seasoned cruiser or not, Perth has beginner-friendly bike trails, and a number of routes that suit different abilities.
From Be.Fremantle, you can rent a bike and go for a leisurely spin to Point Walter, which is located 12 kilometres south of Perth CBD. Once on the southern end of the reserve, you can lock up your bike and cool down by walking along the sandbar and dipping your toes in the clear water.
Watching music shows
There is no shortage of amazing events in Perth, especially during the summer. You can enjoy an afternoon of good music, as homegrown talents and international bands perform in the most picturesque locations around the capital. The Summer Salt is one such example of a musical event you should not miss if you are visiting between the start of December and the end of February.
Tasting local food
Tasting the best of Perth's most delicious delicacies is part of the overall experience. Luckily, there are plenty of restaurants run by local foodies that serve traditional Western Australian foods, Asian cuisine, and dishes with roots in Italian-American cooking. Dining in these restaurants is a great way to discover drink hot spots for later in the night, and to take a break from walking under the heat of the sun.
Read our guide on Fremantle's Best Restaurants You Should Book in Advance
Knowing Where To Stay
Perth has warm climate all year-round that makes it a great city to travel to regardless of the season. If you love the scent of spring and want nothing else than to see the city aglow with wildflowers and beautiful colors, then a visit to the capital in August or September may make more sense. But if you are taking a week off from work to bask in the beauty of Perth's white sand beaches, and to attend exciting events held on the beachside, then a summer travel is your best choice.
Whether you choose to visit Perth in the summer, or in that period between winter and spring, you can rest assured that you will be able to learn several historical facts about the city, and discover the hidden beach destinations that are just a few steps away from accommodation at Be.Fremantle.
Be.Fremantle is the preferred accommodation for travelers to Fremantle. On the doorstep to all Fremantle has to offer, the waterfront location is perfect for getting around to attractions such as the Fishing Boat Harbour, local beaches, or the entertainment and nightlife scenes. If you're staying in Fremantle, why not enjoy an ocean, marina, or harbour view apartment perfect for singles, couples, and families alike.
For the best available rates, book or call directly with Be.Fremantle and our friendly staff.
/BY JUSTIN WARD