Adrenaline-fueled Adventures in and around Perth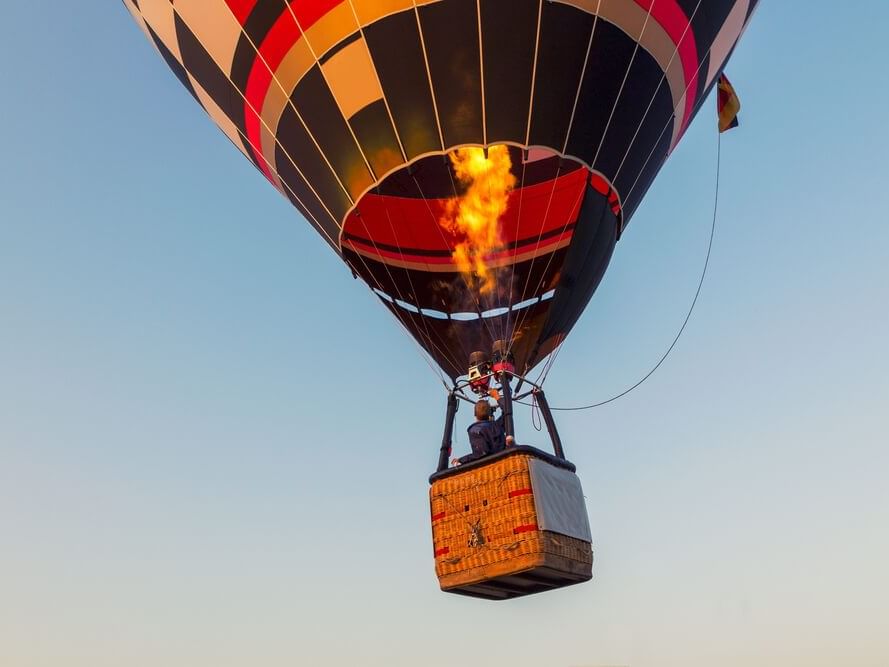 Are you looking for adventure? Check out these top 10 adrenaline-inducing experiences you can have in and around Perth. Whether you want to cruise in a hot air balloon or speed your way around in a rally car – there's something here for everyone!
V8 Race Car Experience
Set off to the legendary Barbagello Raceway for a day to remember! Experience the speed and power of a 450hp engine as you do 6 laps in a true V8 race car. Your instructor will kit you out with all the necessary safety gear (jumpsuits, helmet, the works) and will guide you through how to make the most of this amazing experience. There's really nothing quite like it.
Image courtesy of fastrackv8race.com.au
Treetops Rope Course and Ziplining
Aerial challenges, flying foxes, suspension bridges and airborne skateboarding – if you're an adrenaline fiend this place is for you! Trees Adventure, Australia's primary tree ropes and ziplining location, is just 1 hour from Perth. Courses are built around Pine and Jarrah trees, and range from 2 metres high to 25 metres high. After undergoing the safety training and being set up with all your gear, you'll have two hours to complete the course of your choice. (Most people get time to complete two or three courses in a visit.) The fresh air, the scenery and the exhilarating physical challenges make this a must-do adventure for anyone wanting to break out and experience something different.
Image courtesy of treesadventure.com.au
Catamaran Sailing to Carnac Island
When you're looking for adventure, is there anything better than setting off on a catamaran to a remote island? Carnac Island is a tiny island off the Fremantle coast, and is teeming with wildlife including bottlenose dolphins and Australian sea lions. Its so unique that David Attenborough has made a documentary about this very area and the wildlife here. Once you're there, you can go snorkelling, kayaking, or stand up paddle boarding. So, if you're after an adventure on water, this one is not to be missed!
Rally Action in Dowerin
Head to Dowerin, just an hour and a half north of Perth, for the ultimate day of rally driving. Cars her are kitted out with the full championship car specs – race seats, full roll cages, rally suspension and proper competition tyres. Rally Action offer a full range of different experiences – from intense half-day sessions to simpler options like 'Rally Thrills' or the aptly named 'Adrenaline Ride'. Glide around the corners and get your heart racing as you take on the amazing tracks. There are some of the longest rally tracks in Australia here, as well as a purpose-built rally stage. What are you waiting for?
Skydiving on Rottnest Island
If staying on the ground is a little too tame for you, check out Geronimo Sky Dives. They set off from Rottnest Island (just off the coast near Fremantle) and offer tandem sky dives with free-fall time frames that range from 30 seconds through to a whopping 66 seconds. Experience the most intense adrenaline rush you can imagine, then take in the views across the west Australian coastline as your parachute sails you down to your beach landing. Geronimo also offer video and camera packages so you can have your experience captured forever.
Image courtesy of skydivegeronimo.com.au/
Hot Air Ballooning across the Avon Valley
Windward Balloon Adventures offer deluxe sunrise flights over the extraordinary Avon Valley. Catch your breath as you glide over the treetops and waterways of the valley for up to an hour. Enjoy low-level gliding (where you can get up close enough to the trees to pick the leaves if you want), and then soar to altitudes of up to 2000 feet above sea level. For an experience that is somehow both exhilarating and peaceful, book yourself a hot air balloon adventure in this most picturesque part of Western Australia.
Swim with Wild Dolphins
The natural high that comes with being up close to these majestic creatures is second to none. Cruise through the bays off Rockingham until you see the sleek silvery bodies of wild dolphins cruising along beside you. Your guide will help you get seated comfortably in the special 'swim deck' before you take the plunge. The best bit? No snorkelling experience is necessary, and guides will join your group in the water to so you feel comfortable and can make the most of your amazing dolphin encounter.
Flying Lessons
Feel like flying a plane? Release your inner pilot with these thirty-minute flying experiences! No previous experience is necessary, with expert tuition and specialised dual controls you can be flying your way around in no time! Your pilot will get you in the air and then it's your turn to steer. So when you're looking for adrenaline-fueled experiences, the sky's the limit!
Scenic Helicopter Flights
Take in breathtaking views from a scenic helicopter flight. With numerous options available around Fremantle and Perth, you won't have trouble finding something to suit. Rotorvation Tours set off from Hillary's Boat Harbour where you can fly over the Swan River, the Bell Tower, Kings Park and then take in the rugged West Australian coastline. Their 'Grand Tour' is exactly that, and cruises over Scarborough, Cottesloe, Fremantle, Perth and Rottnest Island.
Jet Pack or Flyboarding at Rockingham
Unleash your inner James Bond with this Bond-inspired flying adventure! In a seated position, jet packs propel you into the air where you can control your movement and fly. You do need to be able to swim for this one, as your adventure will take place in the calm waters off Rockingham, protected by Garden Island. If flyboarding is more your style, you can take a lesson from the expert instructors and have a guided experience so that you can get your balance and propel yourself through the air. You'll be walking on water in no time!

Want more? Perth's first bridge climb and zipline is on the way….
Keep an eye out for more on the planned Matagarup Bridge Climb, due in 2020. It will take you 60 metres above the Swan River and a zipline is being planned to run from the bridge to a platform at Burswood Peninsular. And if that's not enough to get your adrenaline up, there's an Optus Stadium rooftop climb in the pipeline too, giving you the chance to walk a full 360° around the top, with stellar views all around.
Perth and its surrounds are full of exciting things to do. To book your waterside room at Be. Fremantle, contact our staff today. Our local knowledge – and prime position on the Fremantle Harbour – will set you up for the perfect holiday.
/BY JUSTIN WARD