Our Top 8 Breakfast Spots in Fremantle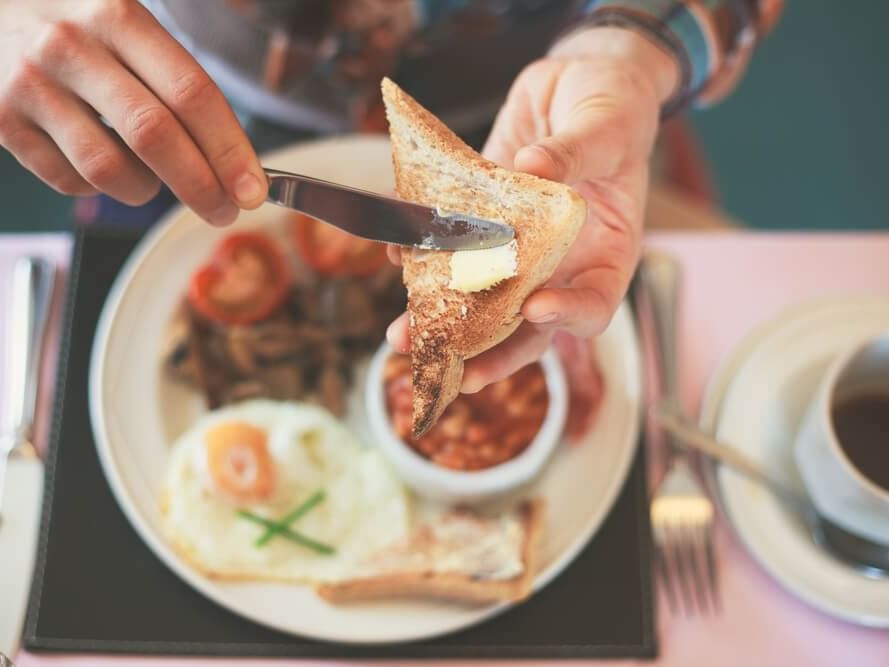 Is breakfast really the best meal of the day? You'll certainly think so once you've tried any of our top 8 breakfast venues in Fremantle! We've outlined some of our favourites here to get you started, but there is so much on offer in Fremantle's vibrant foodie scene that you'll never be short of options. So order a coffee, sit back and relax and soak in some of that Fremantle charm…
Bread in Common
A transformed warehouse space, Bread in Common has style in spades. The open kitchen is proudly on display so you can watch chefs hard at work as they bake, cure, prepare and cook everything from loaves of bread, bakery treats and waffles through to smoked brisket and tomato preserves. The menu here is simple but sensational. Said waffles come with banana, meringue and white chocolate, or you can take on something more savoury like the asparagus with ricotta, peas, mint and lemon. The focus is on local produce and shared experiences so expect communal tables, welcoming staff, amazing local ingredients and a seriously good breakfast.
Canvas, at the Fremantle Arts Centre
The Fremantle Arts Centre is definitely worth a visit anyway, so why not make it a morning visit and start with a stellar breakfast at their onsite café, Canvas. Their signature dish is shak-shuka, which they make with a 16-hour slow-cooked tomato sauce. Add marinated feta or some chorizo to take this to the next level. But if that's not your style, there's plenty more on offer. Roasted field mushrooms with buttered leeks and a sherry hollandaise, for example. Or a waffle menu to die for. Their full English breakfast comes with everything you could ever want, including wild boar chipolatas. And if you feel like leaning towards something a little lighter, there's a dragon fruit smoothie bowl with chia, mango and granola. As hard as it is to choose from such a fantastic menu, console yourself with the fact that whichever way you go you won't be disappointed.
Little Lefroy's
From the outside, there's something simple and unassuming about Little Lefroy's. On the inside though, you'll find a menu packed full of personality. Here, breakfast is all about big flavours, strong coffees and interesting flavour matches. The simple things are done well (like banana bread served with halva butter) and the big dishes are really exciting (like the bacon stack with corn, potato and asparagus). If you're in the mood to design your own brekkie, Little Lefroy's encourages that kind of thing with an extensive list of add-ons like slow roasted balsamic tomatoes, salsa verde, Cumberland sausage and more.
Duck Duck Bruce
The flavours here span the globe – you'll find everything from Goan pickled eggplant, sticky Sri Lankan beetroot, apple sauerkraut and gruyere bechamel – all used in expert ways to make breakfasts really soar. Check out the spiced sausage burger that comes on a pretzel bun, and the vanilla pancake stack served with burnt orange curd, toasted almonds, orange and rosemary syrup, poppyseed cheesecake and gingerbread crumbs. These are just some of the seriously appetising breakfasts you'll find here.
Chalky's
Just a short stroll from your door at Be. Fremantle you'll find the Roundhouse – one of the biggest drawcards in Fremantle. It's the oldest public building in Western Australia and is well worth exploring while you're here. At the base of the building, you'll find Chalky's. Coffee here is a serious business, as is the food. Try the corn fritters with avocado, or the grilled slab bacon with poached egg, ciabatta and cider-pickled onions. For something sweet, check out the honeycomb pancakes – replete with macadamia and honeycomb crumb. The all-day breakfast means you can meander down whenever you feel like it and enjoy your breakfast any time.
The Attic
Rose jelly on waffles, with strawberries and mascarpone? Yes please! This place is quirky and fun, and you'll love breakfast here. They have a great range of dishes: sautéed mushrooms come with whipped ricotta and salsa verde and their smashed avo comes with black sesame gomashio. But, when all's said and done, it's hard to go past their famous green chilli eggs (done with bacon, spring onions and herbs). There's a nice outdoor seating area here too, so it's a great place to take in some of Fremantle's fresh seaside air.
Bib & Tucker
Last but certainly not least – Bib & Tucker. While the main drawcard here is the food, it's equalled by the amazing waterfront views. So sit back and relax while you enjoy the likes of golden turmeric porridge served with banana and coconut yoghurt or house smoked salmon on potato and leek fritters. If you're after something simple, try the egg and bacon 'breakfast pizza' or the buttermilk pancakes. There's a fantastic drinks list which covers coffee and fresh juices through to breakfast-inspired cocktails. Whichever way you go, breakfast at Bib & Tucker really is a lovely way to start the day.
Chat to our friendly staff today and secure a booking at Be. Fremantle to put yourself in the heart of this amazing coastal town. And, of course, breakfast on the balcony at Be. Fremantle is always an option too – take advantage of our continental breakfast packages and those amazing waterside views! For more on where to enjoy good food in Fremantle, take a look at our Ultimate Foodie's Guide to Fremantle, and don't forget to check out our Stay and Dine Deals too.
/BY JUSTIN WARD