12 of the Best Beaches in Australia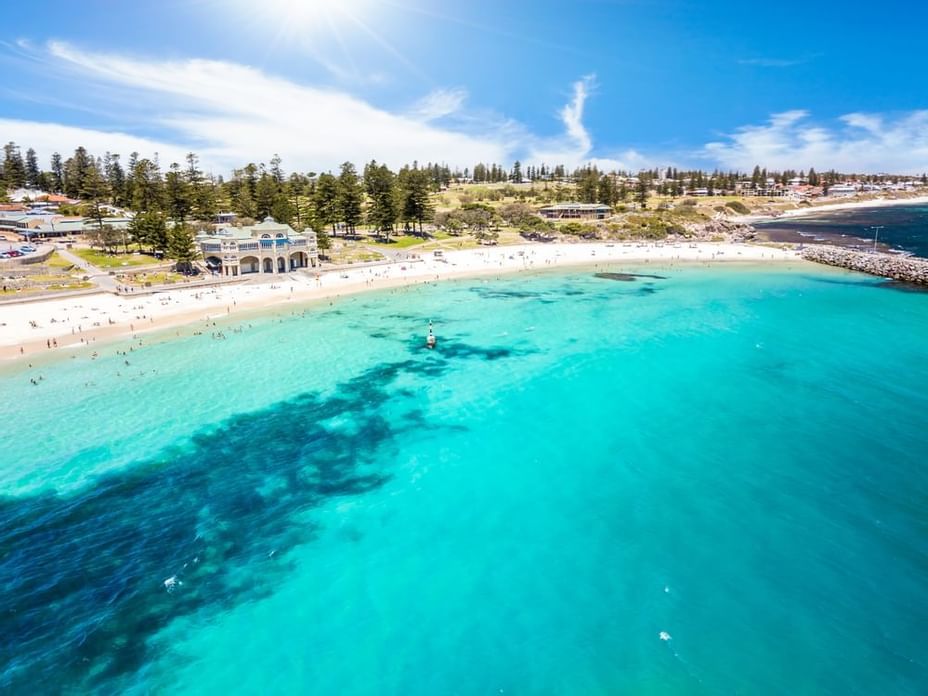 Not all beaches are created equal, and it's definitely worth thinking about what kind of beach holiday you're after. Do you want rugged coastline with unspoiled bushland? Do you want a remote island location? Or maybe you want pristine blue water but only if it's near amazing restaurants and a thriving nightlife.
Here, in no particular order, is our guide to help you get started…
1. Cable Beach, Broome, Western Australia
If you want to a beach that's going to help you feel in touch with nature, this is it. The expansive shoreline gives you views out over the Indian ocean and offers some of the best sunsets of all time. On a full moon you can see the extraordinary phenomenon of the staircase to the moon – a shimmering reflection that looks like golden steps leading out over the water. Sit back and relax at the aptly named Sunset Bar, right on the beachfront, or take part in one of the iconic camel rides that take place along the shore here.
2. Wineglass Bay, Tasmania
Three hours from Hobart, Wineglass Bay is one of Australia's more spectacular beaches. Hike up to the lookout and take in the view of the remarkable pink granite rocks surrounding the clam-shaped bay. On the beach itself, you can enjoy swimming, snorkelling, kayaking and more.
3. The Basin, Rottnest Island, Western Australia
Rottnest Island is home to more than sixty spectacular beaches, so selecting just one to feature here is nearly impossible. The Basin, however, is truly spectacular. When you arrive at Rottnest Island (just a twenty-minute ferry ride from Fremantle) you'll be drawn to the calm waters of the Basin with its gentle swells and soft white sand. It's the perfect area to snorkel for beginners, with easily accessible reefs just off the shore. You can hire all the gear you need, and book in with a snorkelling tour to ensure you see the best and most colourful fish, coral and sea life.
4. 75 Mile Beach, Queensland
Queensland's Fraser Island is the largest sand island in the world, and it's here that you'll find the picturesque 75 Mile Beach. The white, orange and ochre sands and the pale blue water make this feel like a paradise. It's beautiful everywhere you look. The downside? While it is a wonderful beach, swimming is not recommended as there are dangerous currents and tiger sharks commonly found here, so you'll have to settle for a swim elsewhere, perhaps in one of the inland lakes.
5. Cossie's Beach, Northern Territory
Located on Direction Island off the northern coast of Australia, Cossie's Beach is technically closer to Indonesia than it is to the Northern Territory. White sand, palm trees and crystal-clear waters make this a truly beautiful part of the world. So much so, in fact, that in 2017 Tourism Australia named Cossie's Beach Australia's Number 1 beach.
6. Aireys Inlet, Victoria
If you're looking for a beautiful beach along the Great Ocean Road but would prefer to avoid the crowds, then this beach is for you. The rugged coastline here includes spectacular red limestone cliffs, and a walk up to the Split Point lighthouse is a must.
7. Coffin Bay, South Australia
It might be eight hours drive from Adelaide, but Coffin Bay is a fantastic hub of activity. It's perfect for adventure tourists – you can swim with sharks, snorkel with fish, go kayaking, surfing, water skiing, paddle boarding or windsurfing. The nearby town is a seafood lovers paradise as fisherman haul world- famous oysters, crayfish, abalone and more.
8. Cap Clairout, South Australia
Looking for something closer to Adelaide? Part of the Yorke Peninsula, this secluded white sand beach sits just below the Corny Point lighthouse. It's easily accessible and generally isn't overrun with tourists, meaning you can enjoy the beach and soak up some sun in peace.
9. Squeaky Beach, Victoria
Wilson's Promontory is home to some of the most spectacular coastline in the state. Squeaky Beach is a one hour walk from the township of Tidal River,and when you arrive, you'll be greeted by an expanse of golden sand that squeaks when it's walked on – the result of the unique rounded grains of quartz sand found here.
10. Whitehaven, Queensland
This iconic Australian beach is in the heart of the Whitsundays with glistening blue waters all around. High-purity silica with ultra-fine grains means the sand is soft underfoot, not grainy. The 7 km stretch of beach features inlets, lagoons and coves, making it easy to find your own little spot of paradise in the Queensland sun.
11. Main Beach, Byron Bay, New South Wales
Main Beach is a breathtaking beach and is only a hop skip and a jump from the main street of Byron Bay. The water here is great for swimming and also for beginner surfers. The area is well serviced with grassy picnic areas, barbecues, a playground and of course cafes, restaurants and pubs nearby.
12. Turquoise Bay, Western Australia
Exmouth is home to Ningaloo reef, a world heritage listed reef spanning 260 kilometres off the coast of Western Australia. Teeming with tropical fish, turtles, manta rays and colourful corals, Ningaloo reef has got to be the best place to go snorkelling in Australia. Accessible right off the mainland, the gentle clear waters are perfect for 'drift snorkelling', and at certain times of year you can swim alongside whale sharks or majestic humpback whales.
Planning your beachside getaway…
If it's a beach holiday you want, Fremantle is your answer. For starters, in Fremantle you're only a twenty-minute ferry ride from Rottnest Island – home to more than 60 spectacular Australian beaches. What's more, if you stay at Be. Fremantle, Bather's Beach is just three hundred metres from your doorstep. Around the corner there's Port Beach and Leighton Beach – both hugely popular for snorkelling or kitesurfing.
Contact us today to secure your stay at one of our waterside apartments, and checkout our Early Bird Specials and Experience Rottnest packages to really make the most of your stay.
Safety Note: Some beaches in Australia are not suitable for swimming because of dangers including crocodiles, severe currents and jellyfish. Before swimming in Australia always check with local visitors' information centres and safety guides and observe all signage.
/BY JUSTIN WARD